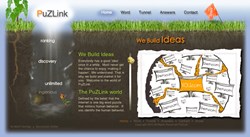 (PRWEB) December 30, 2013
Search Engine Tunneling | PuZLink.com
PuZLink.com, a company that helps businesses build ideas into online brands based on customer behavior and interests, announced the launch of its "Tunnel Sniffer," a questionnaire tool located on the PuZLink website.
The Tunnel Sniffer uses the concept behind search engine tunneling to determine an idea's potential for online success. Search engine tunneling (SET) is PuZLink's proprietary process for using strategic public relations techniques to introduce businesses and consumers to one another based on shared interests and objectives.
PuZLink's Tunnel Sniffer leads prospects through a series of questions designed to help them focus their thinking and outline idea in detail. The online tool also helps the team at PuZLink.com determine the idea's readiness in terms of the SET process.
"Search engine tunneling is designed to enhance a company's prospects for online success based on specific consumer interests and needs," said David Capo, founder of PuZLink.com. "We designed the Tunnel Sniffer to give a business the opportunity to explain their idea in a way that helps us understand their concept and evaluate their chances for success in the Internet world."
PuZLink.com created search engine tunneling to benefit both consumers and businesses by giving them positive introductions on the Internet. SET accomplishes that through the use of creative content that helps a business connect with prospective customers and then build a broader online presence geared specifically to those consumers.
"Any time there is an innovation in business, particularly using online technology, there are questions about how it works," said Capo. "The Tunnel Sniffer is designed to answer the basic questions about search engine tunneling up front and facilitate a faster response for companies that are interested in learning more about the process."
The Tunnel Sniffer asks business prospects for insights such as their motivation, what makes their idea unique, and why people might alter their behavior to take advantage of their idea.
"Behavior is a major factor, because the Internet operates like a big word puzzle that mimics the behavior of human beings," he said. "As we use it, the Internet recognizes and processes that information, and is constantly adjusting to what we do. That's why we ask about behavior and other factors that have been found to have a major influence on how we interact with the Internet, and with one another."
Businesses interested in PuZLink.com and search engine tunneling are invited to share information about their idea by filling out the Tunnel Sniffer questionnaire at http://www.PuZLink.com/contact.
About PuZLink:
PuZLink LLC works with to succeed online by building ideas that will in turn build a business. The company welcomes inquiries from individuals or businesses interested in harnessing the potential of the Internet to build an online enterprise utilizing PuZLink's proprietary approach to search engine tunneling (SET). More information is available online at http://www.PuZLink.com.
Media Relations:
Tom Delamater
Delamater Media Group
(330) 437-5975