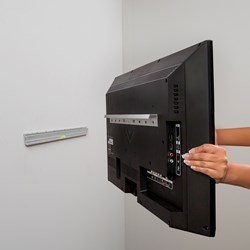 The new construction is so strong, it shocked the UL testers.
Las Vegas, NV (PRWEB) December 30, 2013
When Hangman Products introduces its No Stud TV Hanger ® at the CES Show, there will be head scratching, disbelief, and, perhaps, a challenge to be proven wrong. The new TV mount defies logic at almost every turn.
First is its actual weight. Constructed out of aircraft grade aluminum brackets, and with an aircraft grade steel safety cable, the TV mount weighs in at about a pound, a fraction of the typical TV mount weight.
More shocking, as the registered trademark promises, the product's design is pure innovation. Requiring absolutely no anchors, it uses only tiny nails inserted into aircraft grade aluminum interlocking brackets. The new construction is so strong, it shocked the UL testers. It will hang any flat backed LED or LCD TV up to a UL rating of 80 pounds, screens sized 26" - 47". The nails leave nothing but pinholes in the wall, making it nearly invisible upon removal.
If that is not enough, the TV Mount is so simple to install, the entire project can be completed in about the time it takes to unpack the TV from its box.
For larger TVS, Hangman also makes a low profile Simple Mount TV Hanger with a UL rating of 125 pounds, fitting screens 35" - 70" in width. Although this mount does use studs, it still installs simply in under 10 minutes.
The Hangman No Stud TV Hanger and the Simple Mount TV Hanger will be on display at the Consumer Electronics Show, January 7-10, 2014, South Hall Booth #1-21948.
You will have to see it to believe it.
About Hangman Products: Hangman Products creates hardware solutions for everyday needs. The multiple-patented Hangman Systems are carefully engineered to guarantee a safe and sturdy installation while promising to hang it level every time. Hangman's products range from Hanging Pictures, Hanging Mirrors, Hanging Framed Art, TV/Stereo Mounts and Safety to Garage/Slat Wall and Organization. They are designed to meet the installation requirements for retailers, consumers and manufacturers. Hangman's ever-expanding line of products can handle even the most difficult projects.