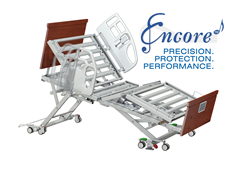 Greenville SC (PRWEB) December 17, 2013
Leading pressure management solution innovator, Span-America Medical Systems, Inc. has announced the introduction of the multi-featured Encore™ bed, a leading-edge bed design which is expected to make a significant contribution to caregiver ergonomics and resident safety in the long-term care sector. This development comes less than two years after Span-America's acquisition of bed and furniture supplier, MC Healthcare Products in Beamsville, Ontario Canada.
The many years of bed engineering skill, research and clinical feedback represented in the current Span MC bed line-up – known as the Q-Series – have been taken to the next level in the design of the Encore™. The company's new, innovative technology addresses several key challenges in long-term care. Among the most welcome Encore™ features is GlideAlign™ which, during the head-of-bed elevation cycle, helps keep the resident safely in alignment with the bed environment. Similarly, by reducing sliding and repositioning, GlideAlign™ provides protection from shearing at the vulnerable sacrum, scapula and heels. The Encore™ seat deck moves, so the resident doesn't have to.
An in-depth understanding of the needs of this sector is evident in the Encore's ReadyWide™ integrated expansion. Complementing the bed's ability to extend to 84 inches, ReadyWide allows effortless "two-click" expansion of the sleep surface to widths of 39 inches or 42 inches. This simple, boltless and tool-less expansion feature supports the Encore's safe working load (SWL) of 600 pounds. With similar ease, the bed's sleep surface can be narrowed when needed for passage through doorways.
Another key feature that improves low-bed safety and ergonomics is Smart Stop™ which automatically stops bed lowering when the deck reaches 12.5 inches from the floor – an ideal height for bed ingress and egress as well as safer, more ergonomically correct transfers.
To facilitate the launch, Span-America has provided an interactive, 3D portal site, where a virtual Encore™ bed can be operated in 3D and key features viewed in video clips. The company also features an interactive bed configurator portal, which enables selection of bed models and options for all beds in the Span MC product line-up.
About Span-America Medical Systems, Inc.
Span-America manufactures and markets a comprehensive selection of pressure management products, beds and furniture for the medical market, including PressureGuard®, Geo-Mattress®, Geo-Matt®, Span+Aids®, Selan® and MC Healthcare products. The company also supplies custom foam and packaging products to the consumer and industrial markets. Span-America's stock is traded on The NASDAQ Stock Market's National Market under the symbol "SPAN."