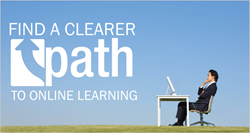 Blue Sky Path™ LMS, the industry's first & only Event LMS, will redefine how today's leading organizations approach educational content management.
San Diego, CA (PRWEB) December 04, 2013
Blue Sky Broadcast, a leading provider of online learning and virtual event solutions, today announced the release of Path ™ LMS, a new cloud-based learning management system specifically designed for media content from educational events. Path LMS offers a new way of publishing, managing, and delivering learning content for external and internal audiences, helping to reduce barriers to implementing online learning programs with an easy-to-use, mobile-ready solution.
"Blue Sky Path™ LMS, the industry's first & only Event LMS, will redefine how today's leading organizations approach educational content management," stated Philip G. Forte, Blue Sky Broadcast's chief executive officer and founder. "Designed specifically for lecture-based learning applications, Path™ LMS delivers educational content in an easy-to-use, rapidly deployed, cloud-based, digital library. The result—PATH LMS significantly increases the ability to cost-effectively leverage educational content to create convenient, engaging and, often mission critical, learning experiences for members, prospects and staff."
Developed with feedback from clients in various industries, experiences, and users in mind, Blue Sky's new Path LMS makes it easy for education directors and meeting planners to capture, manage, and deliver educational content. Path LMS is built upon the most current technologies available and utilizes responsive web design to offer the most optimal end-user experience across a wide range of devices including tablet devices, mobile phones and desktop computers. With a completely redesigned, intuitive user interface and navigation structure that simplifies educational event content management, Path LMS is unlike any other solution in the market and allows for self-service or fully-managed administration with in-line event and course creation, management, and editing.
One click to convert your conference recordings & handouts to eLearning Modules
Path LMS is a rapidly deployed solution that enhances learning for worldwide audiences allowing simple one-click transcoding and publication of conference recordings, presentations, documents, and more, including robust reporting and analytics for users and content usage. With an intuitive self-service system, little training is required for the new state-of-the-art system that automatically optimizes for display on virtually any device—without additional applications required.
"Path LMS injects eLearning expertise and raises the bar on "ease-of-use" for organizations looking for an intuitive solution to deliver convenient and engaging learning experiences," Forte said. "My experience in working with 100's of associations crystallizes the truth that many event-related CMS solutions are only being utilized at fraction of their capabilities due to the complexity involved. Path LMS breaks the mold and is so intuitive we will offer every potential customer a special 60-day trial so they can truly experience the difference. We want every association possible and their members to experience Blue Sky Path™ LMS, the industry's first & only Event LMS!"
As part of its launch, Blue Sky is looking to recruit 20 qualified organizations to help refine the industry's new breed of LMS software in exchange for access to VIP training, best practices, implementation services and the exclusive ability to vote on future functionality. Interested parties can register for this special offer by visiting http://blueskybroadcast.com/contact-us/ and clinking the PATH LMS box.
For more information on Blue Sky Broadcast, please visit Blue Sky's website.
About Blue Sky Broadcast:
Blue Sky Broadcast provides fully integrated solutions for presenter-led, web-based events. Services include capturing and producing live and web-based events that are viewed by hundreds of thousands of people each year. From live streaming to on-demand conference captures and webinars on our state-of-the-art Learning Portal to Blue Sky Path™ LMS, the industry's first & only Event LMS , Blue Sky broadcast provides the perfect online solutions for delivering presentations and extending the life of your message. The company's impressive team of technical and industry focused professionals, coupled with their expertise with web event solutions and online video helps leading organizations fully leverage any type of communication. Blue Sky Broadcast is headquartered in San Diego, CA with satellite offices in Minnesota, Washington D.C. and Tennessee. For more information, visit blueskybroadcast.com.