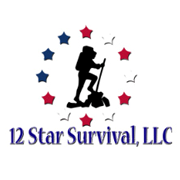 (PRWEB) October 17, 2013
Paul Granville is proud to announce the creation and launch of his new website venture, http://www.12StarSurvival.com. The website offers a wide breath of emergency survival kits, emergency food storage products, and disaster preparedness products. Granville has experience with survival situations from being in the military and from being a first responder and has the necessary knowledge to determine what are the best survival products to offer to his customers.
There are many high quality products available for purchase within the merchandise of 12StarSurvival.com. Items like the Ultimate 7-Day Emergency Meal Kit are particularly popular, among many other items that are excellent for disaster preparedness and survival. In the future, Granville intends to further expand the product lines that are offered on his website. By periodically updating the merchandise available in the online store, Granville hopes to encourage customers to keep coming back to the site to check out what new products have been added.
Customer service is very important to Granville regarding each and every transaction made on 12StarSurvival.com. He wants customers to know that he is always willing to respond to their questions and feedback. He has designed the website to be easy to navigate so that customers can find what they are looking for without difficulty.
To complement the main website, Granville is also launching a blog located at http://www.12StarSurvivalKitsBlog.com. The blog will feature topics related to the different products that are featured in the online store and will offer product reviews and comparisons as well as solutions to emergency and disaster problems. Granville's intention with the blog is to provide information to his customers that is necessary for them to make informed decisions when purchasing products from his website.
About the Company:
12StarSurvival.com – a division of 12 Star Survival, LLC – is owned and operated by Web entrepreneur Paul Granville.
****
Paul Granville
http://www.12StarSurvival.com
(570) 780-8690
iePlexus, Inc.
http://www.iePlexus.com