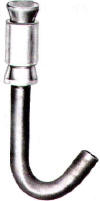 Gunite contractors have been using the Expansion Hook Bolt for over 50 years so it is obviously an outstanding product in terms of performance.
Chicago, IL (PRWEB) June 30, 2013
Ameribest Fastener's expansion hook bolt offers gunite contractors many advantages over other anchors for hanging wire mesh. The biggest advantages of the expansion hook bolt are reliability and ease of installation which ultimately results in overall cost savings on each project.
The expansion hook bolt offers greater holding power than any comparable anchor, and while other bolts fail when corrosion affects the threads of the fasteners, the lead on the expansion hook bolt never corrodes, and the steel portion ranges in thickness from .250 to .375 inches. In over 50 years there has never been a report where corrosion on the expansion hook bolt has ever caused a failure of any type. The reliability of the anchor is also enhanced by the malleability of the lead which works very well even in poor concrete or rock, and the surface area holding the anchor is greater than in most comparable products.
In terms of total cost the expansion hook bolt is also more affordable than any alternative anchor. Instead of requiring the use of an anchor and a separate bolt, the expansion hook bolt is a complete assembly quickly installed with a couple of quick strikes on the included setting tool. Expansion hook bolts are easily installed overhead or even under water. No setting or drying time is needed, and when greater support of the wire mesh is required extra anchors can easily be added without repositioning the wire mesh or any other anchors. Greater holding strength means fewer anchors will be needed, and the ease of installation will save both time and money.
Ameribest Fasteners bolts are easy to install and have stood the test of time in uses from tunnels to bridges to sewers and roads. The superiority of the expansion hook bolt is evidenced by the fact that it is approved by and recommended by the DOT in multiple states.
Best of all, the expansion hook bolt is 100% made in the United States. The all USA construction makes it easier to gain approval on government jobs, while also helping to make America stronger.
About Ameribest Fasteners:
Operating in Illinois for over 90 years, Ameribest Fasteners provides masonry anchors to the construction industry and OEMs. Their most popular products include the expansion bolt, the expansion hook bolt, and the tumble toggle, all of which are made in the USA. For more information or to schedule an interview, please call Bill Gayton, Ameribest Fasteners, at 847-233-0509. http://www.Ameribestfasteners.com