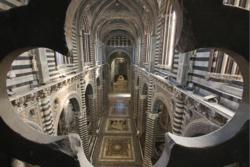 The guided tours enhance the connection to the history allowing for unforgettable memories
Chicago, IL (PRWEB) June 30, 2013
Web-based travel company, Select Italy, announces a brand new guided tour of the famous Siena Cathedral. After 700 years, tourists can now find themselves exploring multiple once-restricted areas of this incredible structure.
For the first time in history, a tour is available and centered around never before seen walkways, staircases, and balconies of the legendary Siena Cathedral. Now through October 27th, an itinerary with a small group tour will allow for the exploration of the cathedral. Secret sections of this Gothic wonder are open to the public after hundreds of years of limited access only to the building's architects. A 1 ½-hour small group tour will be led by an English-speaking guide and affords travelers breathtaking views of spiral staircases, frescoes, and stained glass that dazzle Siena's Duomo.
"This tour is an unique opportunity to visit never before seen parts of what it is arguably the most beautiful Cathedral in Italy. The guided tours enhance the connection to the history allowing for unforgettable memories." says Andrea Guglielmino, Director of Digital Marketing. "We hope that the new tour will result as successful and appreciated as the other exclusive cultural experience available in Tuscany - the guided visit of the celebrated Vasari Corridor in Florence."
Select Italy has also recently introduced for the summer great tours with even more exclusive access. The tour of the Colosseum by Night is a small group tour available now until November 2nd, which offers a view of the Colosseum under the stars in this 60 minute guided after-hours tour. The Colosseum Dungeons and Upper Tiers tour allows visitors to experience both the underground chambers and upper levels of this amazing structure. A 1 ½ hour small group tour brings visitors to the top of the Colosseum for a bird's-eye view of Rome after going down to the chambers where lions and gladiators once prepared for battle.
The Doge's Palace Secret Itineraries is a skip-the-line guided excursion into the secrets of Venice's history. A 75-minute guided tour provides insight into passageways, famous rooms, the council chamber, and the Bridge of Sighs in the New Prison, as well as the Torture Chamber.
About Select Italy
Select Italy is The Ultimate Source for Travel to Italy® and offers a wide array of superior Italian travel products and services, including customized itineraries, state-of-the-art tours and packages, wedding/honeymoon trips, unique culinary classes, a complete pre-departure ticketing service for museums and musical events, private guided services, yacht charters, transportation, hotel reservations, villa bookings and more. Through a vast network of suppliers and cultural contacts, anything and everything you need for optimum Italian travel -- and now Croatian travel, too – is possible at Select Italy. Based in Chicago with an office in New York and representatives in Italy, in 2010 Select Italy opened a full-service branch in Shanghai, China.