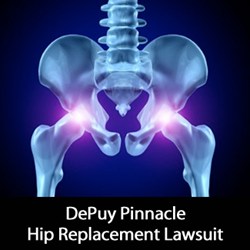 If you or someone you love were injured by a Metal-On-Metal hip replacement recall device, please visit yourlegalhelp.com, or call toll-FREE 1-800-399-0795
Columbus, OH (PRWEB) June 30, 2013
Wright & Schulte's defective medical device lawyers have recently filed a DePuy Pinnacle Hip replacement lawsuit against DePuy Orthopaedics, Inc., a Johnson & Johnson company. This DePuy Pinnacle Hip replacement lawsuit has been filed on behalf of an Iowa woman who suffered severe injuries allegedly due to the defective design of the Pinnacle System. The complaint (Case No. 3:13-cv-02004-K) is part of MDL 2244 and was filed on May 28, 2013 in U.S. District Court of the Northern District of Texas, Dallas Division. This Metal-On-Metal Hip Lawsuit joins more than 3,300 other Pinnacle lawsuits that have already been filed against DePuy.
According to court documents, this hip replacement lawsuit alleges that DePuy failed to adequately test the safety of the Pinnacle Hip system's metal-on-metal design and that DePuy intentionally withheld information regarding the high risk of the system failing even after it had received hundreds of patient reports regarding Pinnacle Hip defects. Despite such reports of Pinnacle Hip failures, DePuy has continued to sell its defective hip implant without any warnings.
Wright & Schulte, LLC specializes in defending the rights of those who have sustained serious injuries after using defective products and dangerous drugs. Our skilled DePuy attorneys are experienced at successfully going up against large corporations, like DePuy Orthopaedics. We encourage those who believe they have sustained DePuy Pinnacle complications to speak with our knowledgeable lawyers by visiting yourlegalhelp.com or by calling 1-800-399-0795.
The complaint explains that the plaintiff had the DePuy Pinnacle System implanted in her left hip in July 2005. Following implantation, the plaintiff began developing painful complications that included hip tenderness and problems walking. Due to the near-constant pain she was suffering, in January 2013, the plaintiff underwent risky revision surgery to remove and replace the failed DePuy Pinnacle Hip implant. As a result of this revision surgery, the plaintiff reportedly has an increased risk of chronic pain, bone loss and other serious medical problems that could all significantly impact her quality of life.
[nytimes.com/2013/01/17/business/fda-to-tighten-regulation-of-all-metal-hip-implants.html January 2013]
DePuy Pinnacle Hip System To Be Phased Out
According to nytimes.com, in May 2013, DePuy Orthopaedics, Inc. announced that it will slowly be phasing out the production and sale of its all-metal-on-metal Pinnacle hip implant devices and that the Pinnacle will not be available in the U.S. as of August 2013. The DePuy Pinnacle is the company's last remaining metal-on-metal hip implant device on the market, as DePuy recalled its all-metal ASR hip implant device in 2010 due to reports alleging that it had a significantly high rate of early failure. [mobile.nytimes.com/2013/05/17/business/jj-is-phasing-out-metal-replacement-hips.html May 2013]
As reported by the New York Times, According to DePuy, the Pinnacle Metal-on-Metal Hip Replacement phase out was spurred primarily by a January 2013 FDA ruling requiring that manufacturers of metal-on-metal hip implants prove through additional clinical studies that MoM implants are safe and effective before continuing to sell them in the U.S. This FDA ruling intended to close an existing loophole that had been permitting manufacturers to only show that their devices are similar to those currently available in the U.S. without having to conduct clinical testing before selling them. "DePuy has communicated to the F.D.A. its decision not to pursue [further clinical studies on the Pinnacle]," DePuy officials expressed in a recent statement, reported nytimes.com [nytimes.com/2013/01/17/business/fda-to-tighten-regulation-of-all-metal-hip-implants.html January 2013]
About Wright & Schulte LLC
Wright & Schulte LLC, an experienced personal injury firm, is dedicated to the belief that America's legal system should work for the people. Every day, the attorneys of Wright & Schulte LLC stand up for the rights of people who have been injured or wronged and fight tirelessly to ensure that even the world's most powerful corporations take responsibility for their actions. If you're looking for a law firm that will guarantee the aggressive and personal representation you deserve, please do not hesitate to contact Wright & Schulte LLC today. Free case evaluations are available through yourlegalhelp.com or by calling 1-800-399-0795.
Contact:
Wright & Schulte LLC
812 East National Road
Vandalia, Ohio 45377
1-800-399-0795
http://www.yourlegalhelp.com