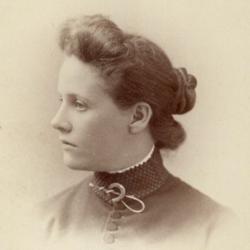 "Father says I'm 16. Mother says I'm 17 so I put my age 16." -Josephine Knight, 1885
Belfast, ME (PRWEB) June 30, 2013
What was life like for a teenage girl before electricity, women's rights, the car or the internet? This unedited diary of Miss Josephine Knight, from the ages of 16 – 18, transports the reader into the day to day life of that time. Travel with her on horseback and steamship, and meet tramps, gypsies and Native Americans through her eyes. Follow her thoughts on the boys and men she meets, and hear her mother's advice about which she writes, "I don't like advice. I never take it."
Josephine was both a student and a teacher who loved to sing and play instruments until the wee hours of the morning. She was also a typical teenager who fought with her siblings and her parents. In one passage, she recounts "Fred is awfully mad at me. He hurt me and I struck him. Mother and Father are lecturing me but I am not listening."
Josephine loved adventure. "I am farther from home tonight than I have ever been before; in Boothbay, 50 miles." She tells about foods like "eel muddle" and "stewed jimmy" as well as the antics involved in skinning a skunk.
This smart, stubborn, fun and talented young woman is enchanting and spirited and also an interesting observer and recorder of her times.
Book Club Questions are available from an associated blog JosephineKnightDiary.wordpress.com. For example, "What do you think of Josephine's relationship with her father?" or "How would you compare your sense of place and home to Josephine's?" There are also comment areas for people to share thoughts and anecdotes..
The book is available from Amazon and Kindle and is released by Angelsong Creations LLC
Angelsong Creations LLC produces quality digital products for families. For information, visit AngelsongCreations.com