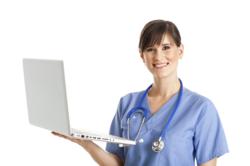 The ALC MD Data Driven Digital Advertising program serves 100% of online ad impressions to known nurses.
Princeton, NJ (PRWEB) June 30, 2013
Based on digital market trends among healthcare professionals, ALC MD has developed a "Data Driven Digital Advertising" program for marketers to reach nurses online. Comprising the largest professional group within healthcare, nurses frequently go online to search for information to make decisions.
The ALC MD Data Driven Digital Advertising program serves 100% of online ad impressions to known nurses on any of the potential sites that they may visit. Unlike other programs that display ads on selected websites visited by nurses and non-nurses alike, the ALC MD program reaches only nurses, whenever and wherever they go on they web. This eliminates the waste associated with targeting websites vs. known nurses on any of the millions of websites that they visit at the exact time they bring up the webpage.
"All signs indicate that today's nurses are a technology-enabled and empowered resource for their organizations," says Maryann Posten, ALC MD Vice President. "As technology advances, nurses are taking on more responsibility and making purchasing decisions. These are the most web-savvy professionals in healthcare and they go online to find solutions for personal needs as well as work solutions."
Registered Nurses spend substantially more time online in their professional duties than physicians, according to an industry study by a leading research firm. Logging an average of sixteen hours online for professional purposes, they are also using smartphones at the point of care during patient consultations.
According to Ms. Posten, ALC MD presents the most complete coverage of nurses on the market and is adding more individuals daily as the profession is expected to grow 25% by the year 2020. "Few lists offer the multichannel ability of reaching nurses by mail, email and now digital display," she adds. "This new online channel can complement email and postal channels to dramatically increase overall marketing ROI."
ALC MD Nurses now available for multichannel marketing campaigns Include:
4,200,000 Nurses Available for Data Driven Digital Advertising
644,170 Nurses Available at Email Address
5,653,000 Nurses Available at Home Address
Marketers can select by type of nursing professional including Registered Nurses, Licensed Practical Nurses, and Nurse Practitioners.
"By leveraging ALC MD offline data, marketers can significantly improve online performance in highly measurable ways," notes Ms. Posten. "Timing of display ads can coordinate with direct mail and email messaging to deliver ads before, during, and after a multichannel campaign is deployed."
For more information on ALC MD Nurses Data Driven Digital Advertising program, please contact Maryann Posten, ALC MD Vice President, direct at (609) 580-2978 or by email at maryann.posten(at)alc(dot)com. Visit http://www.alcmd.com.