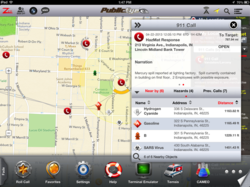 We anticipate exciting growth for PublicEye and the state of technology in public safety.
Nashua, NH (PRWEB) June 30, 2013
PublicEye®, a mobile intelligence platform created by Zco Corporation for iPhone, iPad and Android devices, deployed version 2.1 this month. Along with performance enhancements and minor cosmetic updates, there were three notable features added to provide further functionality and ease of use. These are Evidence Capture, Report Applet, and Nearby Objects.
With Evidence Capture, an officer can now gather digital evidence securely from within PublicEye and submit it back to HQ. Evidence capture includes case number management, location details, and digital photo evidence that can be sent from the mobile device securely back to headquarters. Evidence Capture is an addition to a suite of PublicEye applets, which includes a "Roll Call" information forum, CAMEO access, and various weather status views (earthquakes, floods, and marine traffic).
With the upgraded Report Applet, PublicEye users can create custom reports for their recurring needs. Report fields are fully customizable and can be used for tasks such as Incident Reports, Structure Preplans, and Vacant and Abandoned Building Evaluation. Any report can be created as a form for on-the-go access in PublicEye.
Nearby Objects has been a highly requested feature that is now implemented in PublicEye version 2.1. For any point of interest, such as a 911 call, structure, or hazard, it is possible to set an adjustable radius (i.e. 500 feet/yards/miles) around the incident. The first responders can choose to see what is important to them, such as fire hydrants, hazmats, surveillance cameras, or outstanding warrants right from their mobile device.
The customizable Nearby Objects feature removes visual clutter on the map and promotes focused situational awareness. Instead of seeing every fire hydrant listed on the map, for example, a firefighter can choose to see only those within hose length distance. Further, he or she can be notified when passing any object of interest with an audible alert and push notification.
"We have a lot of exciting news in the pipeline. Apple has received FIPS 140-2 validation for the iOS cryptographic modules, which is great news for mobile security. Along with the release of version 2.1, we anticipate exciting growth for PublicEye and the state of technology in public safety," says Gary Mueller, VP of Business Development at Zco Corporation.
About PublicEye®
PublicEye is a mobile intelligence platform for iPhone, iPad, and Android devices. On a real-time map, public safety personnel can see locations of fire hydrants, building pre-plans, hazards, and 911 calls. CAD & RMS data is available with a touch. GPS locations of all responders are tracked, and fellow PublicEye users can quickly interact via texts, pictures, and videos. For screenshots and a free webinar introduction, visit http://www.zco.com/publiceye/.