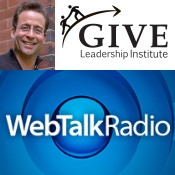 These shows touched on an array of key concepts at the heart of issues that impact leaders and their teams such as negativity bias, sustainable leadership such as employee engagement, workplace bullying and the "Triple Bottom Line" of People, Profit.
Ithaca, NY (PRWEB) June 30, 2013
GIVE Leadership Institute co-founder Al Gonzalez hosted a distinguished line-up of guests during the first month of his weekly WebTallkRadio.net show, Leading Beyond the Status Quo, touching on an array of key concepts at the heart of issues that impact leaders and their teams such as negativity bias, sustainable leadership such as employee engagement, workplace bullying and the "Triple Bottom Line" of People, Profit and Planet.
Bob Burg, co-author of the best selling book The Go-Giver, shared his thoughts on how his "5 Laws of Stratospheric Success" help to improve the quality of leadership and deliver sustainable success in a show titled, "Are You a Go-Giver, a Go-Getter, or a Go-Taker?"
Gonzalez cited Burg as a thought leader, a master of the sales process and "one of (his) all-time heroes" in the area of leadership development. He explained that reading The Go-Giver actually inspired the name of his institute. "Your book was a confirmation that you can lead differently and be courageous and that you just have to find a balance."
Burg responded by explaining that the key concept of the Go-Giver is "shifting one's focus from getting to giving, and in this context, that means constantly and consistently providing value to others."
Deborah Mann from the Charles H. Dyson School of Applied Economics and Management at Cornell University was interviewed for "Why Do CEO's Fail?," a show that included a discussion of a leadership tool known as 5 Practices of Exemplary Leadership, a framework that can help anyone perfect the art of leadership.
From her perspective as the lead coordinator and the administrator of the leadership portion of the of the BOLD (Business Opportunities in Leadership and Diversity) program at the Dyson School, Mann feels the tool is ideal for any leader as well as the BOLD students. "I like this model because it is about leadership being everybody's business, not about a title or position. Everyone is capable of doing it, they just need to identify leadership behaviors and then articulate them."
In "3 Filters for Employee Engagement," Maya Mathias, author of How To Innovate: Unleash Your InnoMojo, discussed how leaders need to understand and relate to their teams more closely if they truly want to succeed in the new global marketplace.
"Ever since the dawn of the Industrial Age, we have, as a society, an economy and a market place, really valued and to some extent overvalued the contribution of the left brain - procedure, routine, repetition, efficiency – and we have rewarded those things a lot over time. Now we are moving to more of a creative or conceptual economy, and being creative calls for a ton more empathy."
Mathias cited this as a key to innovation as well as employee engagement. "If you can't have that level of empathy, you can't create something different or deign something that meets your customers' needs, because you can't even empathize with your customers. As leaders, we are taught to turn off empathy when we walk into the workplace and we need to learn as leaders that our coworkers and employees and our staff members want some of that empathy, too."
"Leadership Lessons from At Risk Youth" featured a conversation with Annie Socci, Wilderness Instructor with Outward Bound, who spoke about how her work with young people demonstrates that developing a culture of trust where people can use their creative freedom to consistently exceed expectations depends on clear expectations from leaders and team members.
"With our at-risk youth and in the business world, the 'trifecta' of expectation, communication and consistent action work hand in hand to determine how much trust there is going to be, and how healthy your relationship is going to be."
Jim Volkhausen, Assistant Director of the Cornell Team and Leadership Center joined Gonzlez for "Is Team Building a Waste of Time and Money?" a show exploring the importance of team building and how to ensure the investment results in a transformative experience for the team.
When asked for his thoughts on the all-too-common view that team building is a waste of time and money as it takes staff away from production (despite the over $350 Billion dollars that studies say is lost in productivity because of disengaged employees), Volkhausen said that "my experience working with groups is that taking the time to really help build unity within an organization and build a sense of engagement is essential in moving towards success.