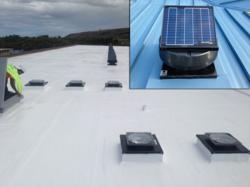 With the solar attic fans eligible for a 30% federal tax credit, the ease of installation and the proven improvement to energy consumption, this is one more way in which we can all make a difference in building energy efficiency.
Incline Village, Nevada (PRWEB) June 30, 2013
In the spring of 2013, U.S. Sunlight released a new addition to their award winning solar attic fans, the 9920TR, a 20 watt solar attic fan capable of ventilating up to 2400 sq. ft. With the improved black solar panel for a camouflaged appearance, the patent pending Smooth Air Deflector design, and severe weather approval, the 9920TR is perfect for industrial uses. Additionally, U.S. Sunlight expanded their low-profile Skylight Tube line to include the patented ventilating Spectrum Skylight Tube line, available in 14", 18" and 21" sizes. The positive feedback on the new products has extended to Department of Education renovation projects in Hawaii.
James "Kimo" Tamayo, of On Top Roofing in Oahu, Hawaii presented the 9920TR and the 2114ST Spectrum Skylight Tubes to the Department of Education (DOE) for a renovation project on two local schools, the Olomana School and the Waimea Canyon School. The Olomana School will use four 9920TR Solar Attic Fans and the Waimea Canyon School used fifteen of the 9920TR solar attic fans and six of the 2114ST Spectrum Skylight Tubes. As government buildings also continue to seek more energy efficient improvements, the U.S. Sunlight solar attic fans significantly improve the usage of air conditioning and the Skylight Tubes offer a simplified method to bring in additional natural daylight.
CEO of U.S. Sunlight, Geoff Foreman, states, "We are pleased to see the U.S. Sunlight products being recommended for government-sponsored energy efficient improvements in addition to home improvements. With the solar attic fans eligible for a 30% federal tax credit, the ease of installation and the proven improvement to energy consumption, this is one more way in which we can all make a difference in building energy efficiency."