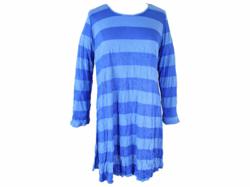 COMFY USA apparel has really outdone themselves this season—a lot of new silhouettes and new colors in a customer favorite fabric--crinkle knit tissue. COMFY USA continues to deliver newness to our customer's closets."
Fort Worth, TX (PRWEB) June 30, 2013
"At idolookgood.com, we are so excited for the Summer 2013 arrival of Comfy USA brand clothing," said Mary Venker, President of idolookgood.com. She continued "ComfyUSA apparel has really outdone themselves this season—a lot of new silhouettes and new colors in a customer favorite fabric--crinkle knit tissue. Comfy USA continues to deliver newness to our customer's closets."
COMFY USA apparel is "Made in the USA" (California) and is known for being a women's clothing line that is trend-appropriate with a modern sensibility. The Comfy USA clothing line continues to deliver season after season, a spirit that is young, a fit that is realistic for today's women, and a sophistication that is ageless and timeless.
"Our customers continually ask for newness, and this season the Comfy USA clothing line really delivered," said Ms. Venker continuing "We've already oversold certain key items that were very new to the Comfy USA brand and continue to see demand across the entire collection. This season we have added Comfy USA plus size and are seeing great response."
"Comfy USA plus size is very realistic for today's women. She wants high standards of quality, she wants beautiful fabrications, well-produced garments and fashionable silhouettes…these are qualities that Comfy USA weaves into their fashions each and every season," said Ms. Venker remarking on the Summer 2013 collections.
Over the past decade, idolookgood.com has grown from a premier Washington, DC area boutique destination, with a reputation of offering the "Best of the Best" to now an "in-the-know" online women's clothing boutique, featuring Comfy USA, CUT LOOSE, FENINI and other boutique women's clothing brands.
COMPANY INFORMATION
idolookgood.com offers an artfully edited mix and match women's clothing collection that blends the best of American and European influences. idolookgood.com women's clothing is comfortable, trend-right, season-less with flattering silhouettes for women of all sizes.