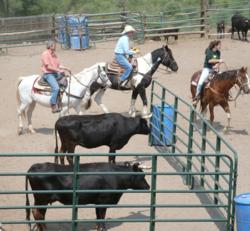 "I would have packed all the wrong things if the ranch hadn't sent me a packet, not to mention a few phone calls!" Shelly L., Rainbow Trout Ranch guest.
Antonito, CO (PRWEB) June 30, 2013
Packing for a dude ranch vacation can be tricky, especially one that is at high altitude in the Rocky Mountains. Even the hot summer months can produce rainstorms that lower the temperature by 20 degrees or more. And there will be several changes of clothes a day for each person dependent on the activities.
Following is a list assembled by Jane Van Berkum of the spectacular Rainbow Trout Ranch in Colorado. Van Berkum says that after twenty-one successful seasons, they have a good idea of what to tell guests is truly essential. (For a more complete listing, click on the "Planning" tab on their website.)
1. Jeans. There is nothing else that really works for riding, and although you can certainly wear the same jeans for several days in a row, you will need at least three pairs for riding as well as evening dances and other activities.
2. Boots. You will need to check ahead to see what the ranch requires as far as riding boots and what might be available. For example, Rainbow Trout Ranch requires slip-on boots for riding but they do have a "boot box" with plenty of boots available for guests to find a pair that fits for the week.
3. Long sleeved shirts and/or a jacket. Dependent on the type of riding you want to do--t-shirts, sleeveless and tank tops do not work well for advanced and "bushwacking" rides, plus long sleeved shirts help protect against the sun. Jackets (or layered clothing) is a must as temperatures can vary tremendously at high altitudes.
4. Swimming clothes. Many ranches offer rafting as part of their all-inclusive packet as well as having a pool and/or hot tub. Cooling off after a day on the trails feels great and kids always love the pool.
5. Hiking boots or shoes. Tennis shoes or Teva-type shoes do not work well for strenuous mountain trails. Boots, tennis shoes or other flat shoes work fine around the ranch if you don't plan on serious hikes.
Most ranches do have a Trading Post which stocks the basics as well as having ranch clothing for sale. In addition, many ranches do supply rain gear, or have it available to rent. And although most ranches have a pre-vacation packet, it is always advisable to call ahead of time to be sure you have what you truly need.
About Rainbow Trout Ranch
Rainbow Trout Ranch is a family owned dude ranch in excellent standing with both the state and national dude ranching associations, and exclusively five star reviews on Trip Advisor. The ranch has a long tradition of providing superb western hospitality for families, couples, groups and singles looking for an adventure vacation in the Rocky Mountains of southern Colorado. Inquiries can be made to 800.633.3397 or the website.