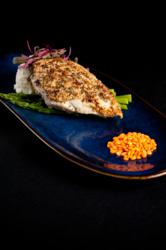 The TEP team works hard. And when you truly strive to do your best, it's very emotional when you do meet those milestones.
Atlanta, GA (PRWEB) June 30, 2013
Invited guests enjoyed fine food specialties and innovative stations expertly crafted and beautifully presented by Atlanta based caterer, TEP Catering. Throughout the evening, guests indulged with libations, hitting the dance floor and participating in a progressive performance of Capoeira, an Afro-Brazilian martial arts dance. 200 Peachtree and the Carnegie Salon provided a glorious backdrop of historic architecture to the event. The downtown venue fit the party perfectly bringing guests to a central location to enjoy teasing their palates with the bold diversity of TEP Catering's cuisine.
A fresh and well-prepared farm-to-table approach to off-premise catering is TEP Catering's style which was a delight for all that attended. Having years of experience in serving Atlanta's most discriminating palates, TEP has catered some of Atlanta's most talked about events. A preferred caterer for 200 Peachtree, the chef's repertoire ranging from home-style southern cuisine to authentic international fare makes this partnership winwin for both venue and caterer. "The TEP team works hard. And when you truly strive to do your best, it's very emotional when you do meet those milestones," says Chef Eric Wolff. "This showcase was one of those milestones for TEP Catering. We are deeply honored to have shared it with a terrific line-up of friends, family, clients and event partners."
The complete list of companies that partnered with TEP Catering: 200 Peachtree, Chancey Charm Event Design, Erik Dixon Photography, Fonix Entertainment, Peachtree Tents and Events, CCP Events, Inc., Chay J's New Orleans Candies, King of Pops, Cordao de Ouro Atlanta and Goldner and Associates.
About TEP Catering:
TEP Catering (est. 2004) is a boutique caterer of choice in the Southeast for corporate and social events. Conceptualized by Chef Eric Wolff, he brings a love for entertaining to everything TEP Catering touches. Raised in Louisiana, Chef Wolff credits the people of south Louisiana for instilling a core understanding of what it means to live life to its fullest - "Laissez Les Bon Temp Rouler"! TEP Catering is built on the concepts of: prepare food from scratch, flawless execution, always listen to the client's needs and anticipate the details that the client didn't think of. Now in their ninth year of growth, TEP Catering is poised as a leader in both offpremise catering services and bold culinary innovation. | http://www.TEPCatering.com
If you'd like more information about TEP Catering, photography from the showcase event or to schedule an interview with Chef Wolff contact Kelly Treadway at 404-884-0144 / Kelly(at)eventcurious(dot)com.