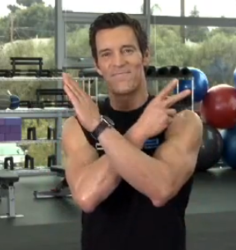 P90X2 was created to increase athletic performance
Las Vegas, NV (PRWEB) June 30, 2013
How does Tony Horton, the trainer in P90X and P90X2, respond to the question "What is the difference between P90X and P90X2?"
According to his video on the Beachbody® YouTube channel, he states: "P90X was created to get you in the best physical shape of your life, while P90X2 was created to increase athletic performance, with body transformation as being an inevitable byproduct." That means people who go through P90X2 will look good and have the sports performance to match the look.
P90X2 is more like the next level to P90X. It's an extreme training program, and should only be attempted after completing a program like P90X, Insanity or Power 90 to prepare the body.
In comparing P90X vs P90X2, Tony says the P90X workouts to create muscle confusion like resistance training, plyometrics, cardio training, and yoga are also included in P90X2 in the form of 12 all new workouts and "also layers in a breakthrough sports science technique called Post-Activation Potentiation, which stimulates mobility, power, speed, and agility to increase that athleticism."
In short, the P90X2 workouts are specifically created for people who play sports and are looking for that extra edge in sports performance.
The P90X2 workout schedule also differs from the P90X workout schedule. The P90X schedule has "three 30-day phases, designed to avoid a plateau, constantly alternating between adaptation and mastery. P90X has more flexible phases, ranging from 3-6 weeks, but with individual goals for each phase, establishing a strong foundation, increases in strength and explosive power."
P90X2 provides flexibility in terms of letting the user decide how long to stay with each phase. Phase one is for balance, phase two for bigger muscles, and phase three is for speed and agility. The included guidebook goes into detail about this.
P90X is 6 days a week, whereas P90X2 is 5 days a week, because of the heavier workload, more recovery is needed. Less is more.
The included P90X2 nutrition guide is tailored towards sports performance with new recipes, including catering to those seeking vegan and grain-free options.
Insightful comments about the program on YouTube include Haroon Awan who said, "P90X/2 and Insanity is a total lifestyle change. It doesn't just last 90 days or 180 days or 270 days or 360 days. Training and nutrition is a way of life."
Caspian21 said, "My first 6 pack of my life was at age 33 after almost 2 rounds of P90x. One more week and I am through phase one of P90x2 and I love it so far. More balance muscle being incorporated and that is one of my weakest points."
On the P90X2 Twitter profile, Joshua P. tweeted: "I can do things and perform exercises I never thought possible."
The base package currently has a special offering-2 free additional workouts P90X ONE on ONE 4 Legs and P90X ONE on ONE Upper Body Balance.
Additional equipment aids in enhancing the workout process, which is included in various P90X2 packages at a significant discount of up to 30% through Team Beachbody Coaches.
The current package specials can be found at http://HelpMeGetFit.com/p90x2/
About HelpMeGetFit.com:
HelpMeGetFit.com is an Independent Beachbody Distributor that offers the full range of over 300 Beachbody products at the lowest prices possible. For more information, please visit HelpMeGetFit.com.