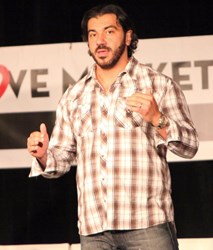 Owning and running a fitness boot camp business is not just about helping people look better.
Chino Hills, CA (PRWEB) July 18, 2013
Ten years ago, fitness expert Bedros Keuilian was just starting his own personal training business. Now, the successful fitness entrepreneur is the founder and president of Fit Body Boot Camp, the world's fastest-growing fitness boot camp franchise and PT Power, a popular fitness marketing blog read by thousands of personal trainers worldwide.
After all the success he found working his way up through the fitness industry, Keuilian came up with the idea to launch FitPro Magazine, an online fitness business marketing tool, to help personal trainers and fitness professionals gain exposure, bring in new clients, and ultimately grow their fitness business.
Keuilian says most personal trainers starting out do not have the time to market their business effectively because they're simply too busy working with their clients. "FitPro Magazine automates a trainer's entire online and email marketing campaign."
FitPro Magazine, available now at https://fitpromagazine.com/, helps personal trainers to build their own fitness magazine and instantly drive traffic to their fitness business' website to generate leads and increase client retention. The customizable online magazine integrates into any personal trainer's fitness website or blog to deliver fitness and health related articles and content.
"All traditional marketing methods are fine at getting personal trainers prospects… but to ultimately convert them into clients who'll pay, stay, and refer clients, personal trainers need to do something different," says Keuilian. He explains, "What personal trainers need to do is to build better relationships with their current clients and constantly stay in front of former clients in a meaningful way, and FitPro Magazine helps personal trainers to do just that."
Keuilian's FitPro Magazine delivers 16 new fitness, health, life, and diet articles each month along with healthy recipes and exercise demonstrations to help personal trainers grow their fitness businesses. Every article in a personal trainer's FitPro Magazine has a "share" feature that allows readers to post the article on their social media site, which helps to build credibility to the personal trainer. There is also an email to a friend option.
"I'm impressed with FitPro Magazine," says Kristina Powell-Raines, of New England FastFit. She adds, "Adding personal touches is super easy. I don't have the time to write my own articles and put videos together. I'm getting great client feedback. When those calls come in and prospects have already seen the magazine, in their minds they know that we're not some fly-by-night place. They understand before even meeting us that we run a professional studio."
A full online fitness marketing system, FitPro Magazine gives personal trainers and fitness entrepreneurs selling personal training everything they need to market to a broader audience.
About Bedros Keuilian
Bedros Keuilian is a successful fitness entrepreneur and longtime fitness marketing and personal training sales expert who has helped thousands of personal trainers worldwide grow their personal training businesses. He is also the founder of the company PT Power and President of the fitness boot camp franchise, Fit Body Boot Camp. To find out more about Bedros Keuilian, his company PT Power, or the fitness franchsise Fit Body Boot Camp, please visit http://www.ptpower.com, and http://www.myfitbodybootcamp.com