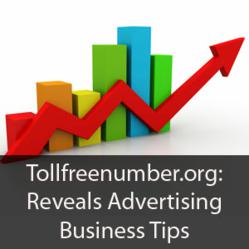 "Though many businesses may simply believe that a toll free number can only be used as a form of communication..." states Logan Marshall, founder of Tollfreenumber.org
Irvine, CA (PRWEB) July 08, 2013
Tollfreenumber.ORG, an American-based company, has recently released information via their site that outlines how a toll free number can boost business and how these unique and powerful numbers can enhance marketing efforts of businesses of all sizes. Tollfreenumber.org has been a major player in the toll free industry for over a decade, and the new section on their revamped site offers visitors advice on how to work to promote their business and boost revenue.
"Though many businesses may simply believe that a toll free number can only be used as a form of communication," states Logan Marshall, founder of Tollfreenumber.org, "there is so much more to having a toll free number. You can include toll free numbers on your website to increase buyer confidence, post it on your marketing tools in order to increase call volume (in that your number will be easier to remember), and you can even choose to get a website domain that is named after your toll free number to enhance your brand image and recognition."
Tollfreenumber.org has also recently released an informative eBook and has rebuilt their site to provide their visitors with a unique toll free information resource. They now offer a wide variety of tips and tricks to making your toll free number work for you, as well as how you can use a toll free number to boost business and earn extra income.
Tollfreenumber.ORG, a recognized leader in providing telecommunications services to small businesses and private individuals, is based in Irvine, Calif., and serves more than 100,000 customers in all 50 states.
The company was founded in 1999, and offers services including toll-free phone numbers, customized toll-free vanity numbers, Automatic Number Identification (ANI), and a Virtual Telecenter that offers live answering, voicemail, multiple mailboxes and other services. Tollfreenumber.ORG has an A+ rating from the Better Business Bureau of Greater Los Angeles. For more information on getting a toll-free customized phone number for business or personal use, contact Tollfreenumber.ORG at 1-800-951-9411, or visit the company's website at http://www.tollfreenumber.org/800-numbers/.