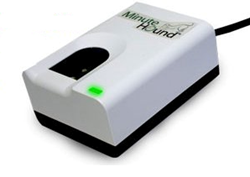 The newly released fingerprint machine is plug and play and works on any computer.
New York, NY (PRWEB) July 30, 2013
MinuteHound announces their new plug and play fingerprint machine that is designed to eliminate time clock theft, human error and increase administrative efficiency. Companies are choosing to switch to biometric based technologies such as the new plug and play fingerprint machine, because biometric technology can track employees' attendance accurately and effectively.
Companies searching for easy to use biometric attendance software will discover that the biometric fingerprint machine MinuteHound has just released is truly plug and play. There are no learning curves or any training required to use these fingerprint attendance machines.
The biometric fingerprint machine only takes minutes to set up and use. These can be plugged into any computer's USB port. The fingerprint machine scanners, which are available now, can operate up to 50 feet or more from a computer. This allows them to be strategically placed at any location. Once they are set up, Minutehound's fingerprint machines can be used as clock-in terminals, effectively eliminating the need for punch cards, identification badges, employee attendance sheets, and ID cards.
Registering employees into MinuteHound is very easy. All that is required is for an employee to place either their forefinger or thumb on the fingerprint machine. Once their fingerprint is scanned, the employee's information can be entered and their identity recognized the next time they log-in to work.
Biometric fingerprint machines and software are saving companies a considerable amount of money each year by eliminating wasted time. When employees come in late to work, leave for lunch early or when they forget to clock-out from work, it costs companies money.
Keeping track of employees' time, using biometric fingerprint machine scanners, has never been easier. When an employee either leaves work early, stays late or doesn't show up for their working shift, MinuteHound's biometric attendance and time clock software will send out an email or a text message to notify designated management personnel.
Biometric fingerprint machines are here to stay. Everyday more companies are choosing to abandon their old time clock systems that use punch cards for a more effective attendance system, and MinuteHound is in an advantageous position to benefit from this new biometric technology they are offering.
MinuteHound Contact Information
Website: http://www.MinuteHound.com
Email: info(at)MinuteHound(dot)com
Phone: (800) 351-7237