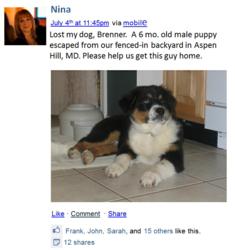 Tweets are shared by friends, friends of friends, and friends of friends' friends!
Reston, VA (PRWEB) July 10, 2013
Losing a pet after a natural disaster or having a pet scared-off by fireworks or a thunderstorm can be a frightening and frustrating ordeal for pets and their owners. An online search for a lost pet should not become an added nightmare. MissingCritters.com discusses how to perform a smart search using the internet and select popular social media to provide a timely and easy way to get word out to many people and perform a search.
I. Online Lost & Founds
These websites have potentially high value for being a quick way to search and post a lost pet with little effort. It is important that an online search NEVER replace a visual inspection of shelters, even if the shelters have a lost & found website.
MissingCritters.com – A 100% free site designed to address natural disasters as reflected in the video Missing Critters - Creating happiness, saving lives. It is unique in that a found stray can be posted instantly from a cell phone. Also, using the website to search is exceptionally quick and easy and contact information is kept confidential (shared only when a match occurs).
Craigslist.com – A popular and free online classified ad site. Click lost & found under community, then use a key word such as dog or cat. Both lost and found animals are combined chronologically in a single list.
PetHarbor.com – Allows owners to search individual shelters. It has a public lost & found, but postings are presented in list form.
Patch.com – A network of small community online newspapers and bulletin boards. An account must be created to post and to respond to posts. Contact info is public.
II. Twitter
Tweets are shared by friends, friends of friends, and friends of friends' friends! Ignore replies to a tweet that create discomfort, no matter how compelling. Be wary if a fee or donation is requested in a reply. Also, with Twitter, a simple search for found pets can be made using hash tags – e.g., "#founddog #Oklahoma" will pull up tweets containing found, dog, and Oklahoma.
A simple, short, informative tweet about a missing pet will produce retweets (RT) by friends and sympathetic groups:

Include city and state. A specific, clear, locale is helpful (e.g., "last seen near Four Corners"), but not an address.
Provide a very short description of the pet and attach a photo, if possible.
Say thanks (thx) and request a retweet (pls RT).
An example of a concise, informative tweet is: "Lost my dog in Moore, Oklahoma, near Cottonwood Park. Small black & tan Yorkie. Pls RT Thx". Contact info is not necessary because it is automatically included through your Twitter handle.
III. Facebook
A posting with a contact link can reach thousands of people via FB shares. To avoid the two most common errors (i.e., not including location and not allowing contact), include city and state and ensure your security settings allow public messaging. The following are common mechanisms used in Facebook:
Post on your page's status line. Make it brief. Type the City, State, a specific area where the pet went missing, a description of the pet, and a request to share. Upload a photo of your pet, if available. Share the posting with several (not all) friends or children with lots of friends. Make sure your security setting allows messages from anyone!
Create a page. A dedicated community or group page allows a lost pet to be featured as the focus of all those who like your page or join your group. Information can be easily shared throughout Facebook. Allow messages by the public.
Search for Lost & Found FB Pages. Type the words "lost" or "missing" or just the location (e.g., Oklahoma) in the search box for "people, places, and things" at the top of the Facebook screen. Many of the results will be community or group pages allowing lost and found animals to be searched, posted, and/or shared.
There are many other social media and online lost & founds. These were selected because they take little effort and have the potential of reaching many people in a specified location.
About MissingCritters:
MissingCritters.com is a website founded with the vision: "What if all lost animals and all found animals could instantly be posted on a public bulletin board with almost no effort and was 100% Free?" Our approach is simple, yet elegant – "Use a cell. Click a pic. Save a stray!" Companies interested in advertising to support the site can contact Stuart Harris at SHarris(at)MissingCritters(dot)com.