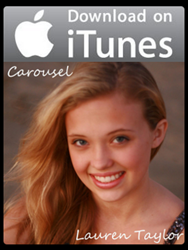 Lauren Taylor's New single "Carousel" is out on ITUNES
San Diego, CA (PRWEB) July 17, 2013
Lauren Taylor is now opening for Michael Bolton in San Diego for San Diego Summer Pops in San Diego on August 9th and 10th. At 14, Lauren Taylor has already played on some really big stages. She opened for Wilson Phillips in San Diego Summer Pops 2012, is a regular the at House of Blues, and performed live on Fox News San Diego at age 13.
She sings a with very eclectic soulful style. Her musical influences are very diverse. Lauren mentioned from many artists of today and the past. Some of the past influences include Etta James, Ella Fitzgerald, and the amazing Whitney Houston. Today's artists she adores are Adele, Kimbra, Beyonce, and Mariah Carey.
Lauren has given back to the community by volunteering feeding the homeless with her family at the San Diego rescue mission, and with autistic children. She has written two songs for charities and strives to be a role model for children and teens to respect themselves and others. She recently wrote a song called Smile to inspire young people to believe in themselves and be resilient through difficult times. If she becomes extremely successful, her dream is to set up a foundation that will help people get a second chance in life.
Lauren's website is below and she can be found on Twitter, Youtube, and Facebook at LaurenTaylorSD. Her song "Carousel" can be found on ITUNES here https://itunes.apple.com/us/album/carousel-single/id598449800