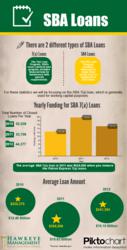 Blackwood, NJ (PRWEB) July 12, 2013
One of the most commonly asked questions is "what are the most common mistakes that small business owners make when looking for financing?"
According to statistics compiled by Clate Mask about small business owners, which he talked about in detail for Small Business Trends:
•83 percent are solopreneurs (1-2 people) and bring in less than $100,000 a year in annual revenue.
•6.1 percent make between $100,000 - $300,000 in annual revenue.
•6.8 percent make between $300,000 - $1 million in annual revenue.
So for these amazing and hard working small business owners, which make up over 95 percent of all the small business owners in the U.S., what are the two most common financing mistakes they make?
Mistake #1 – Not Knowing Your Business Financing Options
This is where it all starts. A small business owner can't know what to do or the best course of action unless the owner knows what the options are. Most small business owners who haven't been in business for several years think that there are options that simply don't exist. It's one of the reasons Hawkeye Management put together the free eBook on the 16 Best & Most Common Business Financing Options for Your Small Business.
Mistake #2 – Not Treating Your Credit as an Asset
Two credit-related reasons dominate this discussion.
a) Late payment or late payments on your credit
***A late payment only shows up on your credit report if it's 30 days late.
b) Credit card utilization percentage is too high (balance to limit ratio).
If the small business owner owes an excessive amount on personal credit cards, then this is an area the owner wants to quickly learn more about. It looks like this:
● $20,000 on credit cards
●Credit limits (total available credit) add up to a total of $30,000
●This means the small business owner is 66 percent utilized—that's too high!
These are the two most common issues facing solopreneurs who want or need financing to grow their businesses. To read the full article, click here.
Hawkeye Management connects entrepreneurs and small business owners with up to $50,000-$150,000 or more in freely spendable business credit lines. Hawkeye Management understands the mechanics and realities of small business credit better than anyone. Hawkeye Management knows what works, what doesn't work, and how small businesses can get the credit it needs as quickly as possible.