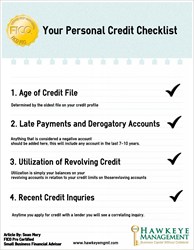 Blackwood, NJ (PRWEB) July 23, 2013
The first question to ask is what else is out there about "Credit Scores?" What was found was a scary amount of inaccuracies with some very accurate articles thrown in randomly with all the disarray. What was not found was properly articulated where this score is derived from whether it be Fico Score, Vantage Score, or any other scoring system out there. So where does that magic number come from when a small business owner is seeking a small business loan or working capital.
Within a credit profile there are far too many areas to name off every single one of them that will play a role but here are a few of the basics that play a strong role.
1. "Age of File," this is determined by the oldest credit file on the account.
2. "Late Payments and Derogatory" section. This will consist of any delinquent accounts or late payments in the last 7-10 years as well as any derogatory accounts.
3. "Utilization of Revolving Credit," utilization is simply the balances on revolving accounts in relation to credit limits on those revolving accounts.
4. "Recent Inquiries," this is going to be any time a small business owner has applied for credit which could be for a credit card, a cell phone, or mortgage among many other things.
To read the full article, click here.
So that's a crash course on a few of the multiple areas of a credit profile that will be evaluated to determine a small owner's overall "Credit Score," and remember is one of the most valuable personal asset. Here is the best book on credit Hawkeye Management has found The Smart Consumer's Guide to Good Credit: How to Earn Good Credit in a Bad Economy by John Ulzheimer.
Hawkeye Management connects entrepreneurs and small business owners with up to $50,000-$150,000 or more in freely spendable business credit lines. Hawkeye Management understands the mechanics and realities of small business credit better than anyone. Hawkeye Management knows what works, what doesn't work, and how small businesses can get the credit it needs as quickly as possible.