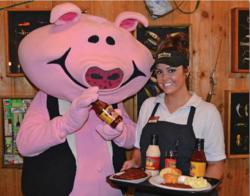 Thank you for sharing LawLers and life.
Huntsville, Alabama (PRWEB) July 11, 2013
Alabama is home to many, many fantastic barbecue "joints" , all of whom claim their barbecue sauce is the best! This year the Alabama Department of Tourism sponsored a barbecue sauce contest to determine the tastiest barbecue sauces in all of Alabama.
Over 34 sauces were entered in the contest. All had to be available for retail sale to qualify for the contest.
LawLers is happy to now claim to be Best BBQ Sauce In North Alabama as judged by the Department of Tourism Year of Alabama Food 2013! "Thank you for sharing LawLers and life... Until next time, this is Tasty the dancin' pig (official spokespig of LawLers Barbecue) sayin'...PIG OUT!"
LawLers Barbecue has 8 retail locations in North Alabama and Southern Middle Tennessee. All stores are closed on Sundays.