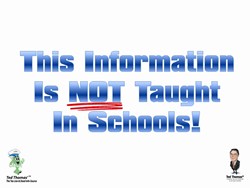 Due diligence will let you separate the wheat from the chaff in over-the-counter tax sales.
Merritt Island, FL (PRWEB) July 26, 2013
Sometimes the past due taxes on a property don't get sold at a public auction. In that case, the local taxing authority takes the property and holds it for the next auction or offers it as an over-the-counter sale.
Tax investing expert Ted Thomas said the biggest drawback to these sales is the property is generally worthless, but not always. If the parcel has been up for sale for several years and never sold, then it's probably only valuable to the adjacent property owner, if then.
"Sometimes the only person who might be interested in a tenth of an acre in a very low lying area in a residential neighborhood is someone who owns the rest of the property around it. Otherwise it's pretty useless," Mr. Thomas said. "But that property owner may be willing to buy that tiny piece of land."
That adjacent property owner might not know the real estate can be purchased. Mr. Thomas said a buyer can find out who owns the neighboring property with a quick search at the courthouse.
"When you know who owns the property around it, call them. Ask if they are interested in buying the adjacent lot. Negotiate a price. Then you can go to the county tax office and make your offer. Just be sure you include a profit for yourself," he said.
Location also matters, he said. A tenth of an acre along a major highway could be quite valuable.
"That's enough space to erect a billboard. Billboards, on well-traveled roads, can command a premium monthly rental," Mr. Thomas said. "You can either put up the billboard yourself and have monthly income or sell the property to a billboard company for a healthy profit."
Other bargains do show up at over-the-counter sales. Mr. Thomas said some such properties are: part of a mall parking lot, land with part of a building on it, railroad easements and the like.
"Due diligence will let you separate the wheat from the chaff in over-the-counter tax sales. Find out what the property is, where it is and what's around it," he said. "You can come across a real deal every now and then."
Mr. Thomas offers a series of instructional videos for tax sale, tax lien and tax deed investing and his must-see video, "Truth About Tax Liens Certificate" at his website. The website even offers a series of free videos which don't require an email to access. The complete list of videos covers tax sales in all 50 states and Washington DC.