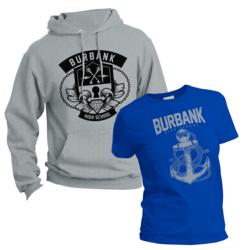 School pride and fashion shouldn't have to be mutually exclusive
San Diego, CA (PRWEB) July 09, 2013
Global Village Concerns, Inc., a leader in branding, mascot creation and fundraising serving the K-12 education market, today announced the addition of new exclusive designs by Hydro74 to the B1self Shops. Hydro74, aka Joshua Smith, is an accomplished Orlando based artist specializing in design, typography and illustration. Well known for his work with Lucas Films, Burton Snowboards, Hasbro Toys, Nike and Adidas, Hydro74 likes to create his own brand of digital chaos. "Apparel is everything that is meaningful in design because it is a common bond everyone shares. It voices our most inner feelings without having to openly state it each and every time we speak," said Josh. "I am honored to support Global Village Concerns in such a great cause -- helping schools and future artists across the country." Josh's art is one of today's most requested and some of the most well known creations in the field.
Global Village Concerns has partnered with Hydro74 to bring pop fashion to the B1self school stores. "School pride and fashion shouldn't have to be mutually exclusive," said Scott Sorenson, VP of Marketing for Global Village Concerns. "We're leading the charge to make clip art, athletic block lettering and unisex t-shirts a thing of the past." Students, parents and faculty can proudly show off their school spirit without sacrificing their personal style. B1self represents being united around your cause (B1) while being able to express yourself as an individual (self). Partnering with Hydro74 is a first step in bringing today's hottest design trends into the school stores.
The B1self Program helps cause-based organizations such as schools and nonprofits, enabling them to promote their cause, increase community involvement and receive money back for purchases from their online store. With no inventory to purchase, no shipping to hassle with, a robust online store and gamified gift registry to excite and engage participants, B1self is the safe and smarter way to fund raise.
About Global Village Concerns
Global Village Concerns™ (GVC), a world leader in brand and mascot creation in the K-12 education market, offers services through their proprietary online social commerce platform (B1selfshops.com) that enables cause-based organizations to promote their brands, enlist supporters and generate incremental revenue for their causes. Founded in 2009, Global Village Concerns is based in San Diego, CA. For more information please visit http://www.globalvillageconcerns.com, or to learn more about the B1self Program, visit http://www.brandempowerment.com.