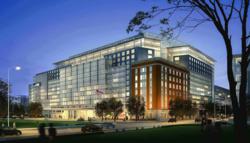 The new hotel will serve as the centerpiece of continued economic revitalization of the historic Shaw Neighborhood
Washington, DC (PRWEB) July 02, 2013
TSI Corporations has officially started work on the much anticipated Marriott Marquis hotel in NW Washington, DC. The Marriott International, in their quest to provide a modern structure with glass and metal on the exterior, selected TSI Corporations due to the company's extensive experience in building envelope services and highly regarded reputation in the Baltimore-Washington area. While being the sub-contractor under the Hensel Phelps umbrella, all 3 divisions of TSI Corporations are involved in this Hotel Project.
TSI / Exterior Wall Systems, Inc. scope involved the installation of the curtain wall, punched windows, and storefront glass. Currently, the crew is working on the installation of 2,400 curtain wall units fabricated by Gardner Metal Systems; followed by the 29,000 punched window units and storefront glass installation. TSI / Architectural Metals, Inc. has their work cut out as well. In the near future the company will start work on their scope, which involves, steel sunshades, a glass cable wall on the roof, steel kickers for the building storefronts, and all the presidential suites glass handrail features. Finally, Mid-Atlantic Construction Supply will provide the composite metal panel for the building's exterior which is appox. 94,000 sq. ft of panels.
TSI was thrilled to be a part of such a tremendous landmark in the nation's capital. The $520 million, 4-star hotel will be one of only four Marriot Marquis properties in the US. Gregory O'Dell of WCSA, went on record to say, "The new hotel will serve as the centerpiece of continued economic revitalization of the historic Shaw Neighborhood. It will also allow us to maximize the economic impact of the convention center and stimulate job growth by creating hundreds of construction and new hospitality jobs." O'Dell along with many other development and local government leaders believes the hotel will be the next illustrious social hub in Washington, DC due to its boundless features.
The 46-suite, 1,175 room luxury hotel highlights more than 100,000 sq. ft. of meeting and assembly space, a grand Lobby, and 5 separate retail and restaurant spaces on the street level of the building. All of this, while keeping its LEED Silver certification from the USGBC.
This project is also a very personal one for Marriott International as this was the companies starting point. "Our company began here in Washington, DC more than 80 years ago.", reminisced JW Marriott Jr., Chairman and CEO of Marriott International, Inc.; having the company come full circle back to its roots. As TSI continues to work on this project, this adds to the exciting development of Downtown Washington, DC and the robust catalog of accomplished projects in the DC metropolitan area.
ABOUT TSI EXTERIOR WALL SYSTEMS, INC
Established in 1977, TSI Exterior Wall Systems, Inc. (TSI) has grown to become one of the largest local Building Envelope/Glass and Glazing companies in the Baltimore — Washington D.C. area.
Specializing in healthcare/hospitals, class– A office buildings, higher education facilities, government buildings, athletic stadiums, and renovations, TSI has completed nearly 500 projects. TSI is proud to leave its name on landmark projects such as FedEx Field, Nationals Ballpark, Gaylord Hotel and Convention Center, Capitol One Headquarters, Tower Companies Towers I and II, City Center DC, among countless others.
For more information please visit our website at http://www.tsicorporations.com