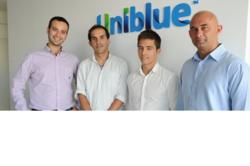 Uniblue is undergoing an expansion plan to meet the needs of its growing product portfolio and customer base
(PRWEB) July 01, 2013
Uniblue Systems Limited, the Malta-based PC utilities company, is undergoing a 25% expansion plan to meet the needs of its growing product portfolio and customer base.
Sundeep Maini joins Uniblue from the UK as PPC Manager. With a background in client side roles including at RS Components and Office Depot, and for market leading digital agency Razorfish, which took him across the globe including USA Singapore and several other European countries, he now sees Malta as his base for the foreseeable future.
New to the Account Management team is Portuguese national Fabio Trovao. Fabio grew up in California but has lived in Europe for the last decade and in Malta for 2 years. His experience in sales and account management with positions at Phillip Morris International, among others, will be an asset to the global business that Uniblue enjoys.
The SEO team welcomes Simon Birch to concentrate on maintaining consistent top rankings in all major search engines for the company and its products. Highly successful and respected within the community, Simon participates in numerous industry forums and the occasional game of rugby.
Nicholas Busolin joins Uniblue as an intern from France to bolster his masters in competitive intelligence and strategic communication. Having had work experience in a brokering company creating and managing all the PPC campaigns, he comes to Uniblue to strengthen his knowledge and his English.
Gioacchino Morsicato is a Strategic Account executive within the sales and acquisition team. "Uniblue has a good reputation as a place of work with strong values, a nice environment and team participation. These are all important factors for me." Gio joins from a 7-year stint working in Ireland in online advertising. Outside of work, he is interested in any sport that involves wheels and enjoys reading about finance and technology, likes online shopping and cooking.
About Uniblue
Uniblue Systems Limited develops products to optimise users' PC performance, the core products being:
SpeedUpMyPC, DriverScanner, MaxiDisk and Powersuite in 13 languages.
Uniblue is privately owned by the Malmberg family and is based on the Mediterranean island of Malta and employs over 100 staff.