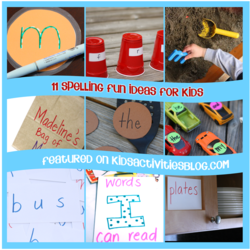 Play some spelling games that make learning fun this summer and will ease the back to school transition in the fall.
Dallas, TX (PRWEB) July 04, 2013
Stop summer brain drain by checking out the spelling fun ideas published on Kids Activities Blog. Kids will have a blast playing these spelling practice games that sneak in a bit of learning. All games can be easily done at home with items found around the house.
The fun spelling ideas include going on an alphabet treasure hunt. Simply take the kids outside and let them dig in the sandpit trying to find hidden letters. Identify the letters and the sounds as they find them. Another fun game is labeling all sorts of things in the house with letter or word cards. Let the kids stick on the cards as they decipher the words.
Set up a sight word drag race. Tape words to match box cars and race them. Have the child fill out a bracket of the words until there is a winner. Another fun game is using alphabet stamps and printables featured on Kids Activities Blog to let the kids match letters as they find them.
Making adorable DIY letter puppets will turn into hours of fun playtime. Kids will love to make these personalized letters, setting up a stage, and moving the puppets to form fun words.
For detailed instructions and to get additional fun spelling game ideas, check out Kids Activities Blog this week. Come get inspired to stop brain drain and keep up learning during the long summer break.
About Kids Activities Blog
Kids Activities Blog is a website created by two moms (who collectively have 9 children), Rachel Miller and Holly Homer from June Cleaver Nirvana. It is their daily goal to inspire parents and teachers to play with kids. This interactive website publishes simple things to do with kids twice a day. Kids Activities Blog is a great tool for moms and teachers to find kid-friendly activities that create memories and sneak learning into the fun.