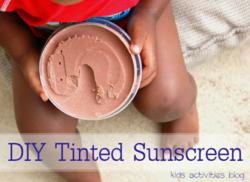 Making sunscreen is easy and inexpensive.
Dallas, Texas (PRWEB) July 07, 2013
Summer time is sunscreen time. Sunscreen can be expensive for families with multiple children. Kids Activities Blog has released a great inexpensive sunscreen recipe and a laundry list of summer bucket list ideas. Summer activities do not have to drain the family budget.
The recipe is both simple to do and inexpensive especially for families with multiple children. Ingredients needed are 2-3 tablespoons of Zinc Oxide powder, 1 pound of Shea Butter, 1 ounce 100% Beeswax, some Lavender oil for scent, and to tint the sunscreen brown about 1/8 teaspoon of Iron Oxide powder which is optional.
The Shea Butter is the base and is the carrier for the powder. This makes the sunscreen waterproof and does not melt as easy when exposed to higher temperatures. The Beeswax also helps solidify the cream. If living in the North, one may want to use less or none. If the sunscreen has melted for whatever reason, shake it up before using.
Melt the Shea Butter and the Beeswax in a double boiler. Whisk it to blend the oils. Put on a mask and mix in the Zinc Oxide and Oxide powders. Blend well and add the Lavender oil or any other oil for scent except Citrus oils.
Rub the lotion between hands before applying it on the skin. Other fun inexpensive ideas for the summer bucket list include making cool fizzing sidewalk paint, building a CD hoover craft, using damaged pool noodles to make cool art, creating all sorts of fun art and games from items found in the recycling bin, decorating the yard with balloon people, and getting muddy by making dirt soup with the kiddos.
For detailed instructions and to get additional fun inexpensive ideas, check out Kids Activities Blog this week. Come get inspired to do fun summer stuff without exploding the family budget.
About Kids Activities Blog
Kids Activities Blog is a website created by two moms (who collectively have 9 children), Rachel Miller and Holly Homer from June Cleaver Nirvana. It is their daily goal to inspire parents and teachers to play with kids. This interactive website publishes simple things to do with kids twice a day. Kids Activities Blog is a great tool for moms and teachers to find kid-friendly activities that create memories and sneak learning into the fun.