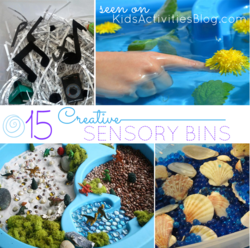 Let the kids have a blast playing with a homemade edible zoo.
Dallas, Texas (PRWEB) July 09, 2013
Ever wonder what else to do with kids during the summer break? How about setting up sensory bin or pretend play activities for kids? Sensory and pretend games are a lot of fun for kids and they sneak in lots of learning opportunities. They are a win-win for the whole family.
Seasoned Moms have released their favorite sensory bins on Kids Activities Blog. The best sensory bins introduce a child to new textures and ideas. It is an inexpensive and fun way for kids to explore their senses. The creative ideas include setting up an edible zoo, creating a miniature dinosaur world, making a patriotic sensory bin, a cool beach themed bin, or an alphabet sensory bin.
Other creative ideas include making an x-ray box, using corn silk as a cool sensory medium, building a frog pond, or creating a cool spring water table.
Fun pretend play activities include setting up a pretend animal hospital for the stuffed animals, setting up an ice cream parlor, or playing pretend recycling center.
For detailed instructions or to get additional fun play activities for kids, check out Kids Activities Blog this week. Come get inspired to let the kids have a blast this summer playing games that sneak in a bit of learning.
About Kids Activities Blog
Kids Activities Blog is a website created by two moms (who collectively have 9 children), Rachel Miller and Holly Homer from June Cleaver Nirvana. It is their daily goal to inspire parents and teachers to play with kids. This interactive website publishes simple things to do with kids twice a day. Kids Activities Blog is a great tool for moms and teachers to find kid-friendly activities that create memories and sneak learning into the fun.