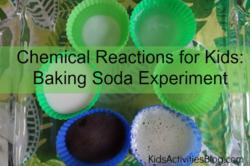 Baking soda experiments are great for introducing kids to the wonderful world of chemical reactions.
Dallas, Texas (PRWEB) July 10, 2013
Ever wonder what else to do with kids during the summer break? How about making fun baking soda experiments or other super cool science experiments for kids published on Kids Activities Blog? Kids will learn a lot by exploring and interacting with the world around them while having a blast.
Mixing together ingredients used in cooking is a fun and safe way for kids to explore the world of chemical reactions. Baking soda experiments provide a safe way to introduce kids to chemistry and let them do some hands on science experiments.
Supplies needed to do some fun experiments are vinegar, milk, orange or lemon juice, water, tea, pickle juice, baking soda, cups, bowls or any other containers for holding liquids.
Begin by measuring equal amounts of the liquids into different containers. Allow the child to have some control in the experiment. Just make sure to use the same amount of liquid in each container. Then add about 1 teaspoon of baking soda to each container. Again, ensure that the amount of baking soda is equal in each cup. Now, begin to observe what happens next.
Bubbles are a sign that a chemical reaction is taking place. Talk about the results with the child. What liquids reacted with the baking soda? The acidic liquids will react with the baking soda.
Additional fun science experiments for kids include experiments with milk and soap, making model hearts, making balloons rise, and lots of aerodynamic paper airplane experiments.
For detailed instructions and to get additional fun science experiments for kids, check out Kids Activities Blog. Come get inspired to let the kids have a blast doing science experiments this summer.
About Kids Activities Blog
Kids Activities Blog is a website created by two moms (who collectively have 9 children), Rachel Miller and Holly Homer from June Cleaver Nirvana. It is their daily goal to inspire parents and teachers to play with kids. This interactive website publishes simple things to do with kids twice a day. Kids Activities Blog is a great tool for moms and teachers to find kid-friendly activities that create memories and sneak learning into the fun.