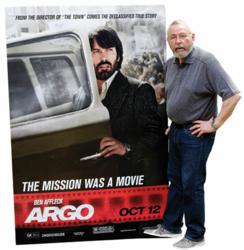 "It's just not what we trained for." Tony Mendez
Washington, DC (PRWEB) July 11, 2013
July/August 2013 HOME & DESIGN Magazine will hit newsstands this week featuring a Private Tour with CIA operative Tony Mendez who inspired Argo. The Summer 2013 issue focuses on inspiring ideas from local interior designers. It is packed with features that take you on an in-depth look at the homes of established area designers. Don't miss the fabulous finds in contemporary furnishings, flooring and bright new options for lighting. This is an issue you won't want to miss!
Further issue highlights include Hot Talent, which introduces how seven up-and-coming designers make their mark on the local scene; Eclectic Mix, where interior designer Katalin Farnady deftly blends disparate styles in her Annapolis home; Glamorous Touch, where luxury and livability come together in Marlene Weiss-Alexander's new DC home; In Harmony, where Michael Winegrad designs a modern Bethesda residence with an emphasis on art and light; Farm Fresh, where Alex Deringer reimagines her Alexandria farmhouse as a casually elegant home; Coming Home, where Courtney Cox creates her dream house in the neighborhood where she grew up and Showhouse Style, where the top design teams transform a newly built home into the 2013 DC Design House.
Excerpt from the Tony Mendez Private Tour Article:
The home's remote location continues to fit the Mendez family, which now includes Tony and Jonna's son Jessie, age 20. The couple is surprisingly soft-spoken, as Jonna illustrates in an anecdote about Argo. "Someone asked Ben [Affleck] why he played Tony so low-key," she says. "He replied, 'Do you know Tony?'" After so many years working behind the scenes, it's the spotlight and celebrity that are foreign. "This is new territory," Mendez says. "And a hell of a way to end a career. We do miss the cloak and dagger though," he adds with a smile.
Datebook keeps you abreast of the latest design and art happenings. This issue's Indulgences keeps you up to date on the best of the good life in travel, toys, fashion and food.
Read more at http://www.HomeAndDesign.com.