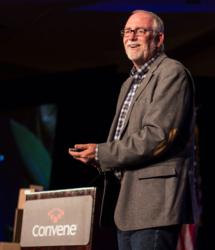 Placentia, CA (PRWEB) July 03, 2013
Convene, a national Christian CEO Forum organization, hosted approximately 250 prominent CEO's and business owners, spouses and guests at their 8th annual CEO Summit in Dallas, Texas. The two day event provided instruction, inspiration, and peer-to-peer interaction that encouraged and equipped business leaders to take the practical steps necessary to lead their businesses and families to a new level of success and Kingdom impact.
The exceptional lineup of keynote speakers included: Colleen Barrett, President Emeritus of Southwest Airlines, Francis Chan, best-selling author of Crazy Love, Bob Goff, Founder and CEO of Restore International and best-selling author of Love Does, Michael Hyatt, former Chairman and CEO of Thomas Nelson Publishing and author of Platform: Get Noticed in a Noisy World, and John Lynch, co-author of The Cure and staff member with TrueFaced .
Along with addresses from the keynote speakers, there was also a special session for women CEOs and business owners with Diane Paddison, Chief Strategy Officer with Cassidy Turley and author of Work, Love, Pray.
Summit activities included a variety of informative breakout sessions covering topics from how to maximize the value of referral marketing to using LinkedIn to generate business opportunities. There was also ample opportunity for networking and roundtable discussion with peers on a variety of business and faith issues.
Founded in 1996, Convene is a dynamic community of Christian CEOs and business owners meeting together to help each other build exceptional businesses, increase leadership success, and have greater Kingdom impact through the principle of "iron sharpening iron." To learn more about Convene, visit http://www.convenenow.com.