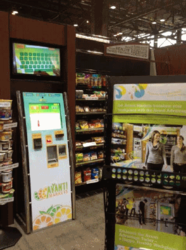 We heard from many participants that adopted the innovative kiosks at their workplace since the last conference and are extremely pleased with its success. - Peter te Lintel Hekkert, president of Slabb, Inc
Las Vegas, NV (PRWEB) July 02, 2013
The conference, touted as the 'the biggest - and best - HR conference in the world' is hosted annually by the Society for Human Resource Management (SHRM) and took place at McCormick Place in Chicago, Illinois from June 16 – 19 and featured over 700 companies including Avanti Markets.
Avanti Markets showcased one of several models of its self-checkout, unmanned kiosk systems at the conference. Micro markets are a convenient 'twist' to the office lunch room providing employees with a healthy lunch option without the hassle of leaving the office. Slabb has supported Avanti Markets at the conference for the past 2 years and regularly partners with the company, providing customized kiosk hardware and software solutions for Avanti Markets clients utilizing its X6 model- a cutting edge kiosk for modern offices.
The booth received a lot of traffic at the event, not only because of its promotional wheel that gave participants a chance at winning great prizes, but because of the many HR executives wanting to learn more about the product, as well as those that wanted to share their experiences of having Avanti Markets micro-market solutions at their own workplace.
Slabb's president, Peter te Lintel Hekkert was overwhelmed at the response they received at the conference. "I was happy to support Avanti Markets at this conference which made the impact of our participation in the past extremely evident," he stated. "We heard from many participants that adopted the product at their workplace since the last conference and are extremely pleased with its success. I think it is a testament to Avanti Markets product, which we support, and the relevance of our continued partnership at this event."
The SHRM 2013 Conference was successful for yet another year and featured keynote speakers including former U.S. Secretary of State Hillary Rodham Clinton, HR-related sessions, entertainment by Kelly Clarkson and the SHRM store – selling everything possible related to HR. Next year's conference will be held in Orlando from June 22 – 25.
About SLABB, INC.
Slabb, Inc. is a leading international manufacturer and distributor of cost effective, interactive kiosks. The company has installed and customized interactive kiosks for thousands of clients in over 150 countries and distinguishes itself from the competition by offering the latest in technological advancements including the wireless kiosk, while utilizing high quality components with designs that facilitate quick and efficient maintenance of their units.