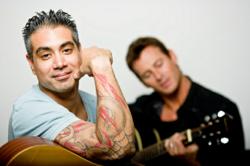 My mission as an instructor is to teach people not only to play the guitar, but to show them how to express themselves on it. My passion with teaching is to help people command authority over the guitar and to find their voice over their instrument.
Fort Lauderdale, Florida (PRWEB) July 01, 2013
As the beginning of a new school year quickly approaches, with end-of-summer BBQs and vacations in tow, most children are not looking forward to the coming days, and most parents are not enjoying listening to their children complain and moan about thew first day of school. It is important for children to have a hobby that allows them to pursue an interest or hone a skill while teaching them important life lessons - and most of the time, a hobby also keeps them entertained. According to thinklink.in, a few reasons why having a hobby is so important is because having a hobby can be "a remedy for fatigue, a chance to connect with oneself, an alternative career option, a life-long pleasure, an independent and intrinsic source of pleasure, a means to discover and re-discover your talents, a chance to meet people of similar taste, and a chance to share" your life and interests with others.
Fort Lauderdale guitar teacher Dyce Kimura recommends that you consider learning how to play the guitar as a new or re-discovered hobby. Music has been proven to increase cognitive abilities, improve thinking skills and test scores, soothe emotions, and much more. Additionally, as your child prepares for the new school year, they may have to deal with school-related stress in the upcoming days, and spending time on a fun, new hobby gives them an outlet for that stress. Additionally, learning a hobby can provide stimulation for children who may be bored after they come home from school, and Dyce Kimura's Fort Lauderdale guitar lessons give children another after-school option that is better than reclining on the couch or playing video games.
Some children learn at a faster pace than others and are able to learn more quickly in school. They may find school "too easy" or become bored because they do not feel challenged enough. Encouraging them to challenge themselves by learning a new instrument can be an engaging and motivating activity. As a new school year approaches, consider celebrating National Anti-Boredom month by encouraging your children to get off the couch or away from the television by learning a new skill that will benefit them in a myriad of ways.
Dyce Kimura is an experienced, highly regarded guitar instructor of Fort Lauderdale guitar lessons. For years, Dyce has been a fan of young and old students alike, who know they can trust Dyce's one-on-one coaching technique and the variety of skills and songs they will learn during his lessons.
To learn more about Dyce Kimura's guitar lessons, or his skype blues guitar lessons , his unique teaching methods, and his various locations, contact him at 786-457-3687 or visit dycekimura.com.