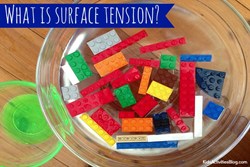 Stop summer brain drain with these easy to do, hands on science experiments for kids.
Dallas, Texas (PRWEB) July 27, 2013
Easy science experiments and surface tension experiments have been published on Kids Activities Blog. Stop summer brain drain with these hands on and simple science experiments that can be easily done at home. Kids will turn on their brain and explore the wonderful world of science.
Surface tension is a difficult concept to understand and one of the fun experiments that can be best explained visually. The first experiment will demonstrate surface tension with salt and the second one with LEGOs. Both experiments have a high "Wow" factor.
Materials needed are a bowl of water, some salt, and a small amount of dishsoap. Let the kids sprinkle the pepper over the surface of the water. Next let them dip their finger into dishsoap and slowly dip the finger into the water. They will be amazed at the fast movement of the pepper towards the edge of the bowl.
Surface tension can be also demonstrated with a water filled bowl topped with LEGO bricks. Only choose the light and flat LEGO bricks that can float the best. Try to cover the entire water surface with LEGO bricks. Let the kids dip a craft stick in dish soap and slowly place dip the stick inside the middle of the bowl. The LEGO bricks will move away from the stick to the side. Wow!
Balancing water drops on top of a penny makes another easy surface tension experiment. The water molecules stick together on top of the penny to form a drop of water. The water molecules hold tightly onto each other to form a cool lid looking shape for the penny.
For detailed instructions and to get additional fun science experiments for kids, check out Kids Activities Blog this week. Come get inspired to let the kids have a blast discovering the world of science.
About Kids Activities Blog
Kids Activities Blog is a website created by two moms (who collectively have 9 children), Rachel Miller and Holly Homer from June Cleaver Nirvana. It is their daily goal to inspire parents and teachers to play with kids. This interactive website publishes simple things to do with kids twice a day. Kids Activities Blog is a great tool for moms and teachers to find kid-friendly activities that create memories and sneak learning into the fun.