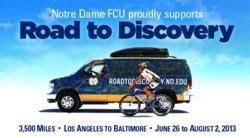 "The cost of the clinical trial to treat NPC patients is approximately $50,000 per patient. The goal of this year's Road to Discovery ride is to raise $400,000 to cover the cost of the clinical trials for seven to eight patients."
Notre Dame, IN (PRWEB) July 08, 2013
Every summer, Gregory P. Crawford, dean of the College of Science at the University of Notre Dame, rides his bike across the country in effort to spread awareness of the Ara Parseghian Medical Research Foundation which is named in honor of beloved Notre Dame Football Coach, Ara Parseghian. The foundation is a non-profit organization dedicated to funding medical research projects to find a treatment for Niemann-Pick Type C (NP-C) disease; a deadly disease that took the lives of three of Ara's grandchildren.
Notre Dame Federal Credit Union has partnered with the University of Notre Dame's College of Science to sponsor Dean Crawford's fourth annual cross-country Road to Discovery bike ride. The 3,746 mile bike ride began on Thursday, June 27th in Los Angeles, California. Throughout the course of the Road to Discovery, Dean Crawford will make stops to visit NPC researchers and families, as well as Notre Dame alumni clubs. He will end his bike ride in Baltimore, Maryland in time for the National Niemann-Pick Disease Foundation 21st Annual Family Support and Medical Conference.
Join Dean Greg Crawford, representatives from Notre Dame FCU, and Notre Dame alumni and friends for some BBQ and Tex-Mex Thursday, July 11 at Dickey's, 6851 Warren Parkway Frisco, TX, to learn more about the Road to Discovery story.