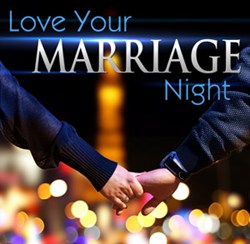 'Intimacy goals' are the most powerful goals in marriage.
Tucson, AZ (PRWEB) July 29, 2013
Married couples will have an opportunity this fall to hear relationship expert Dr. Randy Carlson and share an evening of love and laughter at "Love Your Marriage Night," the Intentional Living Center announced today in releasing the event schedule.
Dr. Carlson, president of Family Life Communications and founder of the Intentional Living Center, will host events in three states in the fall of 2013 in the following communities:
-Warner Robins, Ga.
-Cave Creek, Ariz.
-Glendale, Ariz.
-Shelby Township, Mich.
-Midland, Mich.
-Jackson, Mich.
The nationally renowned counselor, psychologist and radio host has developed numerous Christian based programs and books involving interpersonal relationships, decision making and faith. Dr. Carlson's titles include The Parenting Challenge, The Power of One Thing, Starved for Affection and Parent Talk.
Dr. Carlson said all events will focus on:
-- How "intimacy goals" are the most powerful goals in marriage;
-- The secrets of creating "love habits" for successful couples;
-- The ONE THING every successful couple does that unsuccessful couples don't;
-- How to intentionally "divorce proof" your marriage.
For more information on these events, go to the Intentional Living web site at theintententionalife.com.
To arrange an interview, call Evan Carlson VP of Ministry at the Intentional Living Center at 602-570-0945.