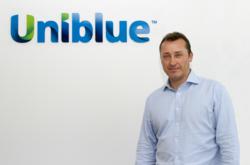 Having a seasoned professional like David on board, means we can leverage his expertise on our existing and planned product portfolio - Christopher Bolin, CEO, Uniblue
(PRWEB) July 01, 2013
David Judd has joined Uniblue as VP of Sales with the objective of optimizing acquisition and exploring new routes to market for the company's product portfolio.
Joining from Colt Technology Services, the move to Malta-based Uniblue is a challenge he is relishing. "Uniblue has aggressive plans to market new products and expand their reach to new audiences, which will make use of my understanding of customer behavior and the digital marketplace," said David, VP of Sales at Uniblue.
"Having a seasoned professional like David on board, means we can leverage his expertise on our existing and planned product portfolio," commented Christopher Bolin, CEO, Uniblue.
David will be relocating to Malta with his wife and their furry family of 2 cats and 3 dogs, and they are all looking forward to the beneficial Mediterranean lifestyle.
About Uniblue
Uniblue Systems Limited develops products to optimise users' PC performance, the core products being:
SpeedUpMyPC, DriverScanner, MaxiDisk and Powersuite in 13 languages.
Uniblue is privately owned by the Malmberg family and is based on the Mediterranean island of Malta and employs over 100 staff.
For more information about Uniblue or to see other opportunities within the company, please visit http://www.uniblue.com