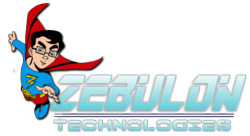 "This book is an example of the 1st Amendment supporting the 2nd Amendment. If you believe in freedom, then you should check it out"
Pittsburgh, PA (PRWEB) July 12, 2013
In the new revolution, an emerging powerhouse called Zebulon Tech may be perhaps the most important player to take the battle field. When author G.S.Kyle sent a free advance copy of his new book The Revolution Begins, to Zebulon Tech, his hope was that the emerging Internet marketing company would be willing to take him on as a client in order to market his book. Upon reading the manuscript submitted by Kyle, Zebulon Tech company founder and president, Josh Caldwell decided to take action.
Kyle's work depicts a newly formed militia that stands up for constitutional rights when a tyrannical government calls upon the United Nations military force to strip second amendment rights from American citizens. The book is practically ripped from today's headlines and includes drone and satellite surveillance along with government control of social media and newly discovered abilities to spy on citizens. Kyle forces his readers to take an honest look at what America would begin to look like if such a revolution would occur. He paints a vivid picture of the battles that would take place when a militia armed with AR-15's, hunting rifles, and a pure will to defend the Constitution stands up to a superior military force equipped with all the weaponry and technological advancements of today's military.
As Caldwell read the book, his own feelings about the subject were so stirred that he contacted Kyle personally. Most of Caldwell's life to date has been spent in the defense of the nation, both as a member of the armed forces, and in counter terrorism. His beliefs are in mirror step with the material Kyle produced. So stirred were Caldwell's patriotic feelings, that he felt an obligation to help Kyle get his book into the hands of as many American citizens as possible.
Zebulon Tech, in a bold move, has begun to market the Molon Labe series at no charge. With their vast expertise in internet marketing, Zebulon Technologies is uniquely qualified to take on this task. Caldwell's company has perfected the art of getting products and services (or in this case, books) to as many potential clients as possible in the most cost-effective manner. Kyle's book Mol on Labe, T he Revolution Begins, is available through Amazon .com on the Kindle and e-reader format. As such, Zebulon Tech's marketing strategy centers around driving as many potential reader's as possible to the web sites associated with Kyle' book.
Working with the most up to date strategies learned from marketing experts Dan Kennedy, and Ted Thomas, Zebu lon Tech has refined the internet marketing business. Zebulon Tech takes each client as a new opportunity to learn and improve marketing strategies. Each marketing strategy is completely customized for every new client. In this manner, Zebulon Tech is able to successfully work with a wide variety of industries.