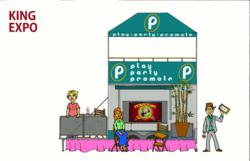 Cleveland, GA (PRWEB) July 02, 2013
This Portable Model is the EZ Setup Solution for Mobile Marketing at Road Shows, Special Events or Trade Shows. The 8' x 12' Mobile Marketing Unit projects high impact visuals with both 20' high customized signage and a 60" HD LED TV screen on a ceiling rail for multiple viewing angles.
Some of the premium features include:
Ceiling track for multiple TV positioning
6' Bamboo Faux Tree on pull out extendable drawer
Customizable rail skirts for roof top viewing
3 ft. X 6 ft. drop-down solid hardwood table
Bathroom, including toilet and sink
20' Canvas skirt
Sonos Wireless Playbar sound system
Ceiling rails and swivel for TV
60" Vizio Smart LED HDTV
6 collapsible wooden bar stools
LED spotlights throughout
8' X 12 ' roof top tent with full on customizable graphics
48" Bar height work table
4.6 cu. ft. refrigerator
Removable Tongue
The unit includes a stained maple 3 ft. by 6 ft. pull-down table as well as a 48" bar height table and 6 bar stools. Any presentation will be enhanced with a multi-position 60" interactive "Smart" HDTV on a ceiling track with swivel for optimal viewing. The Sonos soundbar projects the ultimate wireless high fidelity sound. A bar height work table on the enclosed rear deck allows a private area for work or play.
Chow Trailers "King Expo" can be seen at http://tailgate.chowtrailers.com.