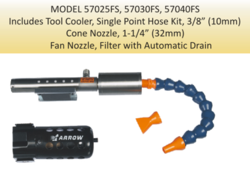 Toronto, Ontario (PRWEB) July 08, 2013
The Nex Flow™ Frigid-X™ Vortex Tube Tool Cooling System is used in dry machining applications and can often replace hazardous "mist coolants" in machine operations.
The Nex Flow™ Frigid-X™ EXTRA STRENGTH Tool Cooling Systems produce up to 2900 BTU/hr. of cooling to allow for the dry machining of even extremely hardened materials.
The vortex tube operated system utilizes a stainless steel vortex tube and stainless overall construction which takes compressed air from a small amount of ordinary compressed air and splits it into a hot stream and a cold stream.
The cold end is about 50 degrees F. (28 degrees C) below supply air temperature and is used to "cool" the cutting tool and part while machining.
There is no messy coolant, no hazardous mist, no residue and is low in cost. Quality of the part can be improved and output can be increased significantly more than offsetting air costs.
The Nex Flow Frigid-X™ Vortex Tube Tool Cooling System has a strong Magnetic Base to secure the unit to the machine.
Advantages include:

No moving parts
Quiet Operation
No Electricity
Portable
Low Cost
Maintenance Free
Prevents Burning and Improves Tolerance Control
The Frigid-X™ Vortex Tube Tool Cooling System is superior to other designs in using solid, stainless steel construction for long life compared to many flimsy aluminum units on the market. And yet, it is lower in cost while better in design.