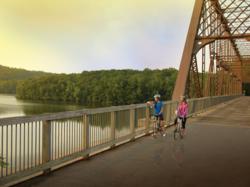 WHITE PLAINS, N.Y. (PRWEB) July 01, 2013
Looking for a season filled with outdoor fun? Look no further than Westchester County, which is chock-full of summertastic experiences for all ages. With activities that include outdoor concerts with live bands, outdoor movies, fireworks displays, hiking and biking and cultural festivals, there are enough activities for a busy summer.
"Westchester is the ideal summer destination in the Hudson Valley. With everything from live concerts in our beautiful parks or at outdoor shopping malls, to scenic trails perfect for hiking and biking, to hotel packages highlighting some of our top tourism attractions, there is something for everyone here," said County Executive Robert P. Astorino. "I hope you'll 'Meet Me in Westchester' this summer to experience it all."
Following is a sampling of upcoming activities and events:
A Summertastic SummerFest
Summer has arrived at Cross County Shopping Center in Yonkers! With the warmer weather and longer days there are more opportunities to relax and enjoy time with friends and family at Westchester's original, outdoor shopping destination. Cross County invites area residents to enjoy the annual summer series of live concerts and fireworks, and new in 2013, outdoor movies, arts and entertainment. Wednesdays through August 21, from 7 p.m. to 9 p.m., couples, families and friends can bring their beach blankets and chairs to The Green, in the center of the mall, for live concerts featuring a variety of music genres from classic rock to country to favorite tribute bands. Also, classic summer movies will be shown on The Green, in the center of the mall on select Thursdays (June 27, A League of Their Own; July 11, Grease; July 25, Hook; August 8, Toy Story 3). And, in celebration of Independence Day on July 4, Cross County Shopping Center will host a festival including live concerts from 1 p.m. to 10 p.m., children's entertainment and a fireworks show at 9:30 p.m., which can be seen throughout the Center. Arts & Crafts for kids up to age 12 will be hosted on select Fridays, from 9 a.m. to 11 a.m. throughout the summer. Crafts include activities such as Spin Art, Sand Art and more! Activities take place between Gap and Bath & Body Works. Reservations required, please call 914-968-9571. All events are family-appropriate. Parking is also available. Log on to http://www.crosscountycenter.com for complete event schedules and to access the SummerFest Dining & Savings Guide.
Hike, Bike, Explore
If you like to hike, bike, skate, jog or walk and enjoy nature's picturesque surroundings all at the same time, then Westchester is the place for you. Our extraordinary trail system meanders throughout the county and offers beautiful scenery with parks, picnic spots, restaurants, historic sites and nature preserves along the way. The trails detail distances, access points, historical notes, sites of interest and available parking locations near the trails' main access points. Some of the most popular trails include the Briarcliff – Peekskill Trailway, Colonial Greenway, North County Trailway, the Old Croton-Aqueduct Trail/State Historic Park and South County Trailway.
In addition to these county trails, cyclists, skaters, walkers and joggers can ride or stroll along the scenic Bronx River Parkway on Bicycle Sundays from 10 a.m. to 2 p.m. in June (and also September), where a seven-mile stretch of the parkway from Yonkers to White Plains closes to vehicles so pedestrians can bike, walk or rollerblade. A newly launched "Hike, Bike and Explore" brochure is available and detail the trails, parks, historical sites and various outdoor interests in the county. This valuable resource can be found online at http://www.visitwestchesterny.com.
Hudson Rising
A traveling Farm Feast, Adventure Village, and Heritage Ships Expo will make the first four appearances in Yonkers on June 30, when several thousand attendees are expected to experience firsthand the Hudson Valley's agricultural bounty, natural beauty, and exciting recreational opportunities. The festival then proceeds to ports in Kingston (July 20), Beacon (August 11) and finally Ossining (Sep 21). For more information, visit Hudsonrising.com
Stay & Play
Extend your stay in Westchester with overnight accommodations. The Crowne Plaza in White Plains offers an enjoyable package for you and a significant other. Take advantage of the Romance package that includes early check in and late check out, champagne, chocolate dipped strawberries and a bountiful buffet breakfast for two in the hotel restaurant. This package starts at $169. To make reservations, visit http://www.cpwestchester.com/ or call 914-682-0050.
Looking for a family getaway? Ahoy, Matey! There are packages for people of all ages to enjoy.Treat your little pirates to an adventure they will never forget at The Ritz-Carlton, Westchester in White Plains with the Pirates of the Hudson package, which includes overnight accommodations, four "any time" tickets to Pirates of the Hudson, and Farmer's Market Breakfast for up to four guests in The Lounge or through In-Room Dining. Children will receive a fun pirate themed amenity before heading out to the always fantastic and interactive event at Philipsburg Manor in Sleepy Hollow, New York. Kids can also take part in the Pieces of Eight Treasure Hunt, wiggle their way into a pirate shipwreck, and get their picture taken with a clever, talkative parrot. This package is available only from July 3 – July 8, 2013 and starts at $381 per night. For more information, visit http://www.ritzcarlton.com/en/Properties/Westchester or call 914-946-5500.
Or, take a trip over to the Hampton Inn & Suites in Yonkers, which is in close proximity to Empire City Casino at Yonkers Raceway and the Hudson River Museum, as well as NYC attractions including Yankee Stadium, the Bronx Zoo and the Botanical Gardens. The hotel recently underwent major renovations for its guests. Make your reservation by visiting http://www.hamptoninnyonkers.com/ or calling 914-377-1144.
For more of the latest events and happenings in Westchester, log onto http://www.visitwestchesterny.com, like us on Facebook (facebook.com/westchestercountytourism), follow us on Twitter @westchestertour or call 1-800-833-9282.
About Westchester County Tourism & Film
Tourism & Film is Westchester County's official destination marketing organization. Its mission is to generate economic benefits by enhancing the image and promoting Westchester County as a premier business and leisure destination in the Hudson Valley region. The Tourism & Film Office in Westchester County is a Division within the County Executive's Office of Economic Development.
For more information, log onto visitwestchesterny.com or call 1-800-833-9282.