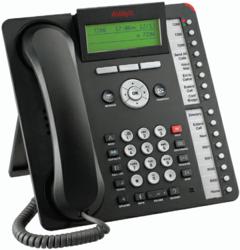 It really is amazing how many great features are packed into the 1400 IP phone series when you consider the low cost of these telephone sets, and that is a win-win situation for our clients
Niagara Falls, New York (PRWEB) July 02, 2013
The new Avaya 1400 digital phones series, also known as Avaya one-X™ Deskphone Value Edition, is a family of cost-effective IP telephone line that delivers familiar features at an attractive price point for businesses with basic communications needs. The recent Avaya digital telephone series includes a portfolio of desk phone sets designed to meet a wide range of end-user needs including the call center. Designed as a stand-alone portfolio, these telephones may be intermixed with other Avaya digital telephones, especially the Avaya one-X™ Deskphones (9500 series).
Avaya 1400 series digital phones are compatible with Avaya IP Office Release 6.0 or higher. Combining the features of traditional telephones and the latest in telephone user experience, 1400 Series digital telephones provide critical capabilities not often found in competitively priced models.
Telephone Magic Inc., a long-time online leader in Avaya IP Office phone systems and telephones, is thrilled to offer the value-oriented Avaya 1400 Series digital phone line. Jeff Jackson, president of Telephone Magic, notes the Avaya 1400 IP phone series is "a good digital alternative from Avaya, which allows our customers to purchase more office desk phones within a tight budget for their busy businesses, call centers, and multiple branch office upgrades".
The Avaya 1403 phone is designed for walk-up and everyday user profiles and is a cost-effective digital telephone that provides easy access to the most common functions needed for everyday use. The 1403 digital telephone supports 3 line appearances or feature keys. The display on the 1403 phone has two lines of 16 characters.
The Avaya 1408 IP phone is a value-priced, full-featured digital phone designed for light to moderate everyday phone users. The Avaya 1408 telephone supports eight line appearances or feature keys. The Avaya 1408 digital phone also supports a broad portfolio of Avaya wired and wireless headsets through its integrated headset jack. The 1408 phone offers a context-sensitive user interface, three softkeys, along with a four-way navigation cluster for scrolling through a local contacts list or call logs. The display on the 1408 telephone has three lines of 24 characters.
The largest set in the 1400 series is the Avaya 1416 phone, which is a full-featured digital phone designed for communications-intensive users. Designed for the Navigator user profile and managers needing one-touch access and a large display, the Avaya 1416 digital phone supports 16 line appearances or feature keys on the phone itself while a 32-button expansion model can also be added, which provides access to a total of 48 feature keys or speed dial buttons. The 1416 phone also supports a broad portfolio of Avaya wired and wireless headsets through its integrated headset jack.
The Avaya DBM32 Button Module is the aforementioned expansion module which can be added to the Avaya 1416 phone. Up to three of these modules can be added for a total of 112 buttons with dual LED's (including the sixteen from the phone itself). The only limitation of the DBM32 is that it requires an external Avaya power supply (1151D1).
Jackson says, "The Avaya 1400 series digital phone line represents the cost effective alternative to more expensive business telephones. It really is amazing how many great features are packed into the 1400 IP phone series when you consider the low cost of these telephone sets, and that is a win-win situation for our clients."
Jackson continues, "While we do offer more expensive lines of digital phones, such as the Avaya 9500 series or other manufacturers' phones that are pricier, anyone that already has an Avaya IP Office phone system or has migrated from Nortel Norstar telephone systems to the IP500 platform can take advantage of these affordable 1400 phones. It's a good digital series at a great price."
About Telephone Magic Inc.
Telephone Magic Inc. is is its' 25th year as a wholesale distributor of business phone equipment.
Telephone Magic carries Avaya IP Office, Avaya BCM, Definity PBX, and Partner ACS phone systems, Avaya digital telephones, Avaya IP phones, circuit packs, cards, modules, expansion equipment, etc. Also featured are the legacy Nortel Norstar, BCM, and Meridian phone and voice mail systems, phones, Media Bay Modules, Key Codes, cards, expansion modules, parts, and accessories.
Telephone Magic also specializes in telephone headsets for Avaya phones and carries legacy Avaya telephones for IP Office, Definity and Partner phone system platforms, along with other Avaya accessories.