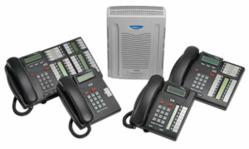 The BCM50 now allows small businesses to enjoy affordable, converged voice and data communications that were previously only available to larger organizations
Niagara Falls, NY (PRWEB) July 01, 2013
The Nortel BCM 50 is now an all-in-one, affordable platform for converged voice and data communications for small to medium business with 3 to 20 stations, yet scalable to serve more than 40 with IP users. With an easy-to-use and highly flexible architecture, the Business Communications Manager 50 enables small sites to benefit from convergence capabilities that were previously only available to much larger organizations.
Telephone Magic Inc. has been a long time online leader in new and refurbished Nortel Norstar, BCM, and Meridian phone system equipment and telephones. Jeff Jackson, President of Telephone Magic, indicates, "The BCM50 now allows small businesses to enjoy affordable, converged voice and data communications that were previously only available to larger organizations."
Mr. Jackson continues, "The Nortel-Avaya BCM Digital and IP system is the most powerful communications platform Nortel created for small businesses. The BCM 50 expands with BCM50 Key Codes and BCM Media Bay Modules. Larger businesses usually purchase the Nortel-Avaya BCM 450. We continue to carry replacement systems and parts for the legacy version Nortel BCM 400 and BCM 200. Once of the nice features of BCM systems is that they support both Nortel Norstar T-7000 Series phones, which is now the Avaya 7000 phone line, and Nortel-Avaya IP phones."
Proven to be an ideal small business phone system, Avaya Nortel BCM 50 platform provides advanced capabilities, such as robust telephony features, voice messaging and unified messaging, IP networking, Internet / intranet access, contact centers with skills-based routing, IP telephony to users desktops, and an integrated router option for Ethernet or ADSL broadband access.
Since the Nortel BCM 50 is an integrated solution, these applications work together so users will not get lost in a maze of stand-alone devices, software upgrades or a tangle of cabling. Everything needed is right there in one compact unit that can be managed from a single, intuitive software application.
For companies that have already made an investment in Nortel Norstar, the BCM50 platform simultaneously support a choice of digital and IP Nortel-Avaya telephone sets, so companies can retain existing sets when upgrading the core of their communications system, and converge services over IP in phases to fit their needs and budget.
About Telephone Magic Inc.
Telephone Magic Inc. is in its 25th year as a wholesale distributor of business phone equipment.
Telephone Magic carries Avaya IP Office, Avaya BCM, Definity PBX, and Partner ACS phone systems, Avaya digital telephones, Avaya IP phones, circuit packs, cards, modules, expansion equipment, etc. Also featured are the legacy Nortel Norstar, BCM, and Meridian phone and voice mail systems, phones, Media Bay Modules, Key Codes, cards, expansion modules, parts, and accessories.
Telephone Magic also specializes in phone call recording systems; message on hold systems; telephone headsets for Nortel Norstar, Merdian, and Avaya phones; wireless headsets for Nortel and Avaya telephones; long range wireless phones; conference phones; telephone On Hold Message systems and messages.