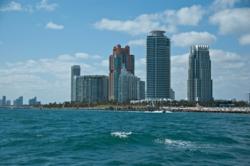 "Our focus is to make airport parking easy as well as affordable..."
Fort Lauderdale, FL (PRWEB) July 04, 2013
Greenbee Parking, one of the fastest growing airport parking service providers in the country, has announced a range of discounted options for travelers using the Fort Lauderdale (FLL) airport. Now they will no longer have to worry about parking space or the dear cost of parking their cars at this busy airport. The new offers are beneficial to all, especially those looking for affordable long term parking options. Now it is possible to get great parking spots at discounted rates, rates that can beat all other Fort Lauderdale Long Term Parking Coupons offers. Fort Lauderdale airport ranks 13th in domestic travel and 21st in overall passenger traffic. It has over 300 arrivals and departures scheduled every day with nonstop service to over 100 cities within the US. It also caters to international destinations like Canada, Caribbean, the Bahamas, Latin America and Mexico, along with certain destinations in Europe. Naturally, ground traffic is heavy which has led to increasing parking woes here.
"We have designed every deal with our customers in mind," said Christine Cooper – Marketing Coordinator, Greenbee Parking. "Our focus is to make airport parking easy as well as affordable, so much so that travelers will no longer have to worry about space, time or money whenever they think of airport parking. All they need to do is go online, book/pay for a space and they are done. We are confident that our services and our prices can beat any competitor's Fort Lauderdale Long Term Parking Coupons offer hands down."
Fort Lauderdale–Hollywood International Airport Parking Information
Fort Lauderdale is one of the busiest airports in the US. It is a gateway to not only the hotspots of South Florida but also to popular international getaways like the Caribbean, Bahamas, Mexico and other Latin American countries. The busy and dynamic airport serves over 23 million passengers annually, with over 300 departures and arrivals scheduled on a daily basis. It ranks in total passenger traffic which is an indication of how busy the traffic in and around the airport will be. It is also conveniently located very close to downtown Fort Lauderdale and not too far away from north of Miami. This means that leisure as well as business traffic is quite high around FLL pushing up parking prices and constantly leading to shortage of airport parking space. For a long time now travelers have had issues with the lack of adequate parking and the high price they have to pay here. With new deals and cheap discounted offers from Greenbee Parking now they can enjoy better options than the regular Fort Lauderdale Long Term Parking Coupons.
The Greenbee Airport Parking Solution
Greenbee Parking has effectively bridged the gap between parking problems and solutions at both airports and major seaports. They have tied up with major hotels for available parking spaces at discounted rates which they offer their customers across the nation who can now save more than 75% of their parking costs.
All they need to do is visit Greenbeeparking, select their city or airport of choice, choose the parking spot and pay through a secured payment gateway. There is a comprehensive list of airports and parking spots to choose from. Greenbee's wide network makes it possible for every customer who logs in to find a solution.
About Greenbee Parking
Greenbee Parking is the nation's most innovative long term parking company, with a new way of making long term parking affordable. The company is rapidly adding new airports to its network.