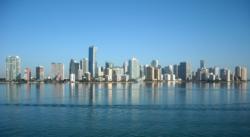 "We understand what travelers have to go through when it comes to parking.....that's the reason we have new innovative solutions."
Miami, FL (PRWEB) July 05, 2013
Greenbee Parking, the nation's fastest growing airport parking solutions firm, has been awarded top position in the latest MIA airport parking reviews. The reviews are a collation of reports from passengers using the airport parking spots. The company offers cheap discounted parking with long term as well as short term options. Travelers using Miami (MIA) airport only need to go online and book a space, in order to secure a great location for their vehicle without making a dent in their pockets. Miami is one of the top 10 preferred holiday destinations in the world. It sees a large number of domestic as well as international leisure travelers not to mention a high volume of business travelers targeting Miami and neighboring counties. With great deals from Greenbee Parking, travelers can now get great parking spaces despite the heavy traffic.
"Our goal is to provide the best airport parking solutions, and we hope to improve our services even more with time," said Christine Cooper – Marketing Coordinator, Greenbee Parking. "We understand what travelers have to go through when it comes to parking and that's the reason we have new innovative solutions to help improve their travel experiences. The MIA airport parking reviews is a testament to our hard work and has further bolstered our strength so that we can perform even better in future.
Miami International Airport Parking Information
Miami International Airport (MIA) ranks high as the largest U.S. gateway to the Caribbean as well as the top South American destinations. Apart from this it is also one of the top international freight airports as well as the largest airline hub in the US, making it an extremely busy hub for both commercial and business travel. It ranked first in the US in terms of percentage of international flights and 2nd in terms of volume of international passengers in 2011. It is the 25th-busiest airport in the world in terms of passenger traffic and 12th busiest airport in the United States in terms of annual passenger flow. This busy airport has been a target of constant passenger ire due to the steep parking rates and lack of adequate parking spots. It is only with the advent of services offered by companies like Greenbee Parking that there has been some relief for this problem. The latest MIA airport parking reviews show that Greenbee's innovative solutions have already made a marked difference in passenger experience here.
The Greenbee Airport Parking Solution
Greenbee Parking has effectively bridged the gap between parking problems and solutions at both airports and major seaports. They have tied up with major hotels for available parking spaces at discounted rates which they offer their customers across the nation who can now save more than 75% of their parking costs.
All they need to do is visit Greenbeeparking, select their city or airport of choice, choose the parking spot and pay through a secured payment gateway. There is a comprehensive list of airports and parking spots to choose from. Greenbee's wide network makes it possible for every customer who logs in to find a solution.
About Greenbee Parking
Greenbee Parking is the nation's most innovative long term parking company, with a new way of making long term parking affordable. The company is rapidly adding new airports to its network.