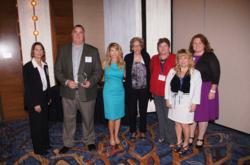 We are proud of the difference this redevelopment has made in the lives of Kuhio Park residents.
Marlton, NJ (PRWEB) July 09, 2013
The Michaels Development Company's $135 million renovation of Hawaii's largest public housing community, The Towers of Kuhio Park, has been presented with a 2013 Vanguard Award from the National Affordable Housing Management Association (NAHMA).
The massive revitalization, undertaken in partnership with The Hawaii Public Housing Authority and The Vitus Group was recognized for demonstrating an exceptionally creative and innovative solution to an affordable housing challenge.
"We are very proud to receive this honor from NAHMA," said Ava Goldman, president of Michaels Development Company, who noted that rehabilitation of The Towers was Michaels' largest single-phase development ever. "It's a wonderful feeling to be recognized, and the best part of all is knowing what a difference this effort has made in the lives of the residents and the community of Kuhio Park," Goldman said.
The rehabilitation of Kuhio Park's 555 units marked the first public-private partnership in Hawaii to transform public housing and included major infrastructure upgrades at the two 16-story towers as well as interior improvements.
Each unit received new interior finishes, flooring, windows, doors, energy efficient appliances, plumbing and electrical fixtures. To increase living space and natural lighting, each apartment's lanais were enclosed. The renovation also included reconfiguring 33 apartments for handicap accessibility and creating 12 units specially designed for those with visual and hearing impairments.
Updates to the exterior included island inspired decorative screening, a vibrant paint scheme for the façade, and a redesigned entrance to the Towers that give it a bright and welcoming experience. Sustainable building strategies were used including the installation of photovoltaic solar panels, low flow plumbing, energy-efficient appliances and low impact, indigenous landscaping.
Additionally, the redevelopment included creating two new technology centers, renovating a 4,000-square-foot community hall, community garden, hospitality suites, expanded medical clinic, and larger laundry facilities for resident use. The renovations also included the conversion of 12,000 square-feet of ground floor space into social service rooms that offer a variety of programs to residents including job training and fitness classes.
The Vanguard Awards are presented annually by the National Affordable Housing Management Association, a leading trade group for the affordable housing industry. The awards recognize both newly developed and significantly rehabilitated affordable multifamily housing communities that showcase quality design as well as innovations in financing.
In recognizing The Towers of Kuhio Park, NAHMA also cited the excellence of the property management company in handling the "in-place relocation" of the residents, 96 percent of whom were able to stay on-site during the year-long renovation process. Interstate Realty Management Company, an affiliate of The Michaels Development Company, provides property management services to The Towers of Kuhio Park.
The Vanguard Awards were presented at an awards ceremony held June 19 in San Diego as part of NAHMA's annual conference.
About The Michaels Organization:
Michaels Development Company and Interstate Realty Management are part of The Michaels Organization, a family of eight integrated but independent companies dedicated to excellence in affordable, mixed-income, military, and student housing. Serving more than 100,000 residents in 360 communities across 34 states, the District of Columbia, and the U.S. Virgin Islands and with a development portfolio valued in excess of $3 billion, The Michaels Organization is a national leader in the residential real estate industry, with full service capabilities in development, property and asset management, construction, mortgage finance, and tax credit syndication. Visit http://www.TheMichaelsOrg.com for more information.